The heat wave has taken a toll on many, including me and it isn't going to fade away any time soon. If you really are fed up trying to figure out how to dress all desi and chic, without sweating it out whilst visiting your near and dear ones for special moments and occasions, I bring to you a few ways to doll up and look cool. Read on!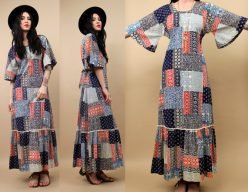 Source: https://img0.etsystatic.com/058/0/6318498/il_570xN.724630074_jajc.jpg
Khussa shoes
The beauty of wearing khussas shoes is that they can be worn with just about anything. From sarees to salwars, bridal wear to casual coffee clothing, cotton suits to patialas and more, khussas all the way can make a difference. Intricately embroidered with plenty of embroidery and in various shades, hues and textures too, khussas shoes are versatile and chic, trendy for sure too. The best part is, you wouldn't trip and fall, or lose balance wearing these desi precious puppies. They keep the feet covered and safe from the pollution, dirt and dust around. Pair them with western wear and an indo-western fusion comes through.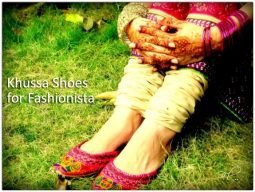 Source: http://www.fashionlady.in/wp-content/uploads/2013/09/khussa-shoes-for-Fashionista.jpg
Capris and kurtis
You may call this a chic way to flaunt the indo-western style, but we say this is a practical way to look and stay cool, and stunning too. Light toned Capri pants can be paired with vibrant and bright cotton or sheer kurtis for the summers. The look comes off as chic and gorgeous for sure, and when worn with flats and ballerinas or heels, you may just make heads turn all the more.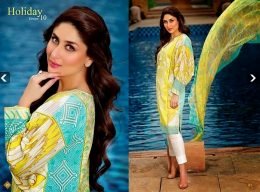 Source: http://www.blog.indiabazaaronline.com/wp-content/uploads/2015/08/kareena-kapoor-in-kurti.jpg
Gorgeous flat sandals
If you have been invited for a special event, a formal gathering or maybe a wedding, and you plan to look all divaish in that luxe lehenga choli number, ignore not the footwear you would want to complete the look with. At such moments, it would be a prolonged affair; meeting and greeting people at the wedding, dancing and moving around- you cannot afford to miss the soiree of happiness and the cheerful ambience in painful high heels, now is it? Think about the gorgeous flat sandals in various shades and hues, with metal touches or without that can raise the oomph factor.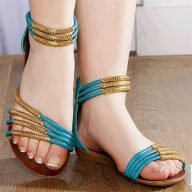 Source: http://pkfanfashion.com/wp-content/uploads/2016/04/Beautiful-Flat-Shoes-for-Ladies-2016-17-1.jpg
Bridal flats
Thinking of a destination wedding at a hilly zone or maybe at someplace off-beat? A great idea we say. However, think about the footwear when planning your bridal ensemble, and think practically on those lines too. Rugged and cobbled terrains can twist an ankle or two, marring the happiness on your D-Day, which is why a pair of neutral toned chunky ballerinas seem to be an apt choice to wear with your bridal ensemble. Available in various hues, styles and designs, the same shoes can be worn later on when you probably honeymoon with your husband or for special post marriage occasions.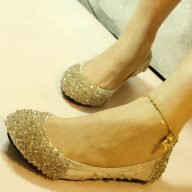 Source: http://i00.i.aliimg.com/wsphoto/v0/851548636/Bridal-shoes-2012-shoes-rhinestone-beaded-wedding-shoes-flat-flats-dipper-shoes-princess-shoes-boat-shoes.jpg
Palazzos and kurti tops
Ditch those denims and leggings for a while, and think about more comfort while you walk out on the streets in style. Palazzos for sure can be a haute way to make a fashion statement, and this time with long kurti tops that flow way below the knees. Wear the look for special occasions or at your besties wedding, at work or maybe to attend a date too- get ready for the compliments to pour in.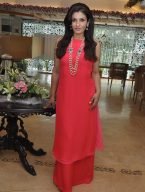 Source: http://www.blog.indiabazaaronline.com/wp-content/uploads/2015/08/tunic-palazzo21.jpg
Punjabi Jhuttis
Once again and on the lines of keeping in mind with the climes and the plenty of movement you would face each day, give your feet that much needed love and care. Punjabi jhutis in beautiful sequences and colorful embellishments can match up with your patialas and Pakistani suits, gorgeous anarkalis and lehenga cholis, ghagras and sarees too- neutral tones to bright flashy ones or simple embroidered footwear- there is a whole range to choose from.
Source: http://www.metromela.com/wp-content/uploads/2014/03/Punjaban-wearing-the-traditional-Punjabi-Jutti.jpg
Kohlapuri chappals
Kohlapuri chappals are a favorite amongst Indian women and PYTs rushing to work and college, simply because they add plenty of comfort and aren't a hurdle as such to deal with. Pair them up with asymmetric kurtis and fitted pants for a day out shopping or wear them on Friday to work with your smart casuals- eyebrows would not be raised but get ready for the compliments to flow through.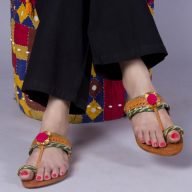 Source: http://www.stylishtips.com/wp-content/uploads/2014/12/Kolhapuri-chappals.jpg
Have fun darlings!