Meet Mr. Best Rising Star- An Aspiring Bloke With Long Lashes, Saurav Jain
Girls, you would either fall in love with this boy or get all envious about his long lashes. Guess what, he really has long lashes and the Mr. Best Rising Star, Kolkata 2016, Saurav Jain is here to say hello to you all.
I remember meeting this boy the very first time when he auditioned for the Mr. And Miss Kolkata event. At first look, he was quite playful and wanted to tell us something, which i felt he suppressed. On grilling him a little more, Saurav opened up and made it clear that he too would like to make a name of himself.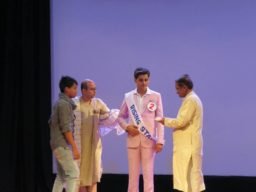 "I wish someday to be famous, where girls surround me and take selfies". Exact words at the audition he spoke and today, winning the title of the BEST RISING STAR 2016, Saurav has managed to win many hearts across the city.
Here is a short interview i managed to have with him, because the ever so busy CA finalist is focussed now on his studies and is into print modelling too. Hear what he has to say!
Me: So tell us more about yourself?
Him: My name is Saurav Jain, I am a CA finalist and i love crunching numbers. I am just another boy who dreams to make it big, and who doesn't? My hobbies are the same as others, but i love listening to music and you would always see me with my headphones on. It takes me to another world altogether, where i bask in glory and am the prince of my own world. What i admire about myself is that i have it in me to be a source of inspiration for others, and i do that through words and actions.
Me: Interesting…. what are your other plans?
Him: I won the BEST RISING STAR this year, and there have been no contracts or modelling signs as of now given to me by the management, so i shall focus on my studies. My plan in life is to become a successful Chartered Accountant and make money. Now i am not materialistic, but i have never ever seen anyone with the latest gadget or the swankiest of cars, unhappy. I am a practical bloke and i mean what i say, i care two hoots about who thinks what about me. But yes, i never would discriminate or pull anyone down, because i too am someone that is struggling to make it big and i know what struggle is.
Me: You didn't win Mr Kolkata, yet you are positive!
Him: That event was just a stepping stone for me, and not necessary everyone has the beginners luck. Even though i didn't win the title, i did bag the award for BEST RISING STAR and that means a lot, because the city voted for me as a potential star, which is nothing less than a crown fit for a king.
Me: How has life changed for you now?
Him: I am focussed, i have more grit and determination, and energy to make my wishes and dreams come true. I am a firm believer of a mix of hard and smart work, and will strive to reach my success point. I have learnt a lot in the past two months, my groomers taught me whatever they could and i have changed as a person to be honest. So yes, there is a lot of change in me, which only when you meet me now you would see. I am smarter mentally and know the right from the wrong.
Me: Your family has been supportive, haven't they?
Him: I still remember the day of the audition, right until then I did not inform my parents regarding this competition and I was not going to inform them also because I was pretty sure that they would have not0 allowed me to proceed. A few days later, i informed my mother and was completely shocked after listening to her reply. She travelled all the way from Bihar and came to attend the event, and i cannot express my gratefulness to her, just for being there to vouch for me and to morally support me for the finale on July 19th 2016.
Me: Who is your motivation?
Him: My motivation in life are my parents, they have sacrificed a lot just to provide me with all the facilities I required and I can't pay off this debt in my entire life, but I will try my best to make them happy by fulfilling their wish of seeing me as a Chartered Accountant.
Me: Your favourite models?
Him: I don't have a favourite model as such, and if I have any I would strive to be like him which the world won't accept. The world strives for the best and I won't be the best then, so if I have to keep a favourite model I would keep it as myself, as being my own fan will make me better and probably the best.
So that was about Saurav Jain, a boy who believes in making his own destiny and the city proud with his talents and skills. And maybe someday i may just go to him to file my taxes too, but only if he is free from his shoots and studies, and his entourage of girls around him (LOL).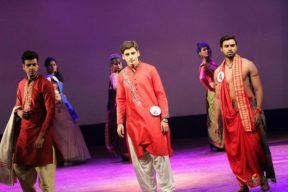 Cheers to you mate, may success be yours always!