The Beanshot cafe provides Continental, Italian and Mexican food. It takes about Rs500 for two. The Beanshot cafe located in Patuli, just opposite to 45 bus stand, this place is quite famous for its innovative burgers and coffee. The longest burger in the town is found here. It is named as "The Illegal Chicken Steak"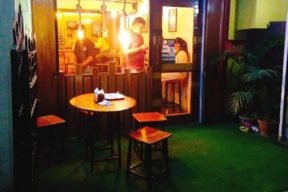 The Beanshot Cafe 
The Beanshot Cafe is only 10 minutes walk from kabinajrul metro station. The place is small in square feet. The ambiance is very much likable by people of all age. Just the space is a bit less five table inside and one outdoor which might cause trouble on the days of the occasion. There is a wall hanging of bike which is really mesmerizing and the ambience is just wonderful.
Inside the Cafe, it gives a vintage vibes with soft rap or country blues playing in the background. All in all their hospitality was the cherry on the top.
Burger challenge at the Beanshot Cafe
The burger is so big that one cannot finish it at a time though few people are doing it. There is a deal. If one finishes the burger within ten minutes of time, then one gets 50% off on the giant burger. There is a smoky flavor on the chicken. It is longest burger ever found in the town. The price for this giant burger is 585 + Tax
Special Recommendation:
Must try items : Spicy Guava, Honey glazed chicken wings, Sin burger, Illegal Pork Avalanche, Lamb Keem steak, Tutti Frutti Slider, Peri Peri French fries, double loaded chicken fries, caramel cappuccino, chicken steak, Oreo milk shake.
Peri Peri French Fries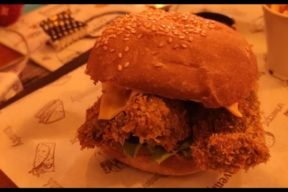 Chicken Steak Burger
Barbeque pizza has a perfect blend of all the tastes. The main attraction here is that you can print your selfie on your favourite cup of cappuccino and eat or drink it too. They have an edgy edible food printer that shelves out your desirable picture over a cup of cappuccino or ice cream.
The Beanshot Cafe is a small comfy place where you can chill with your close friends with some good food at an affordable price.
Address: C-16, Baishnabghata Patuli Township, Opposite 45 Bus Stand, Kolkata, West Bengal – 700094
Timing: 11:30am- 10pm