Kolkata Launch of Avik Gangopadhyay's New Book Love in Siesta at Oxford Gallery
Avik Gangopadhyay is an award-winning author, academic and columnist and now in a creative venture recently released his book Love in Siesta, A Collection of Short Stories at the Oxford Bookstore Gallery, Kolkata. It was followed by discussions on Transcreation, Text and Screen by Ahmed Tahsin Shams, an academic, poet, journalist, film-maker and critic from Bangladesh and on Dichotomy, Critic and Creative Writer by Jaideep Mookherjee, an independent researcher, Comparative Literature & Indology.
Co-presented by Xpresspublications.com, India and Avante Garde Productions, Bangladesh, the Kolkata launch began with Hymnal Chanting by Swati Gangopadhyay, reputed vocalist. The programme was moderated by Prof Kunal Roy, incidentally also one of the transcreators of some of the stories of Avik's Love in Siesta, who, after the welcome address, informed the audience of Avik's nature of contribution and appreciation received from across the globe. Many among the audience were astonished to know that Avik Gangopadhyay has 21 published books and 9 Edited Titles in English and Bengali to his credits.
His uncommon treatment and interdisciplinary approach to Aesthetics and Theories of Literature, Language and Criticism, not-so-discussed historical issues, Philosophical and religious 'ISMS', Indological studies, Editorial endeavour in 6 books of poems and short stories – received wide and unique critical attention in India and abroad.
His works on Language Death, Diaspora and Trauma Literature, The Transcreative Psyche, Demystifying the Aryan Invasion Myth have earned him appreciation from Edinburgh University (Scotland, UK), Henrich Heine University (Germany), Sorbonne University (France), Indo Canadian Diaspora Confederation (Canada), Centre for Revitalization of Endangered Languages (NY, Canada), Asia-Europe Foundation (Singapore), Library of Poetry (USA), Raad O Barendra Bhasha Shongskriti Chorcha Porishad (Bangladesh), Varendra Research Society (Bangladesh) & Varada Sidhhi Peetham (India).
A post-Graduate in English Language and Literature from Jadavpur University, Kolkata, he takes additional interest in Sanskrit, French and German Languages. His post  & opinion editorials are flavoured by his interest in the fields of psychology, philosophy, history, eastern & western classical music, fine arts, ideational treasures of antiquity & postmodernism, surface in Daily Observer, Daily Mail, The Japan Times, The Connexion, Le Visage, Pembroke Observer, National Post, The Bangladesh Post &  The India Observer.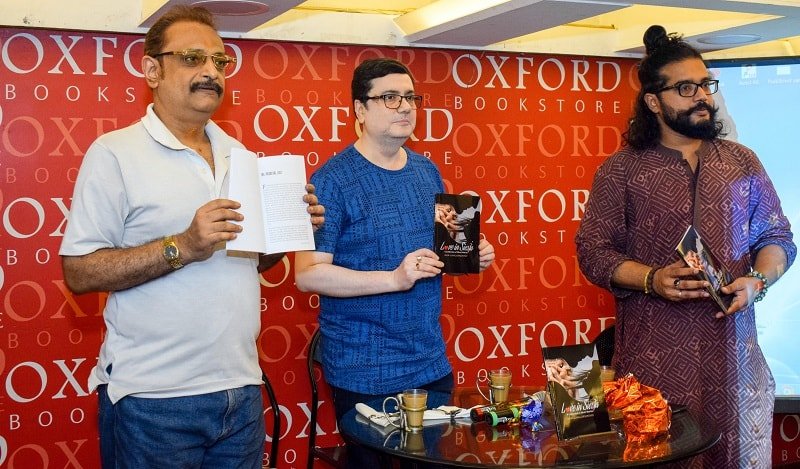 In his inimitable style and accent Indologist Jaideep Mookherjee raised the ins and outs of the notions of critical artistry in literature. Referring from Plato to T.S. Eliot, Aristotle to postmodernism through Mathew Arnold, he related Avik's handling of Time in Love in Siesta to the author's creative subjectivism and objectivity, and asserted that the wide range of knowledge and writing of the author enabled him to sail through the dichotomy between the critic and the artist in flying colours.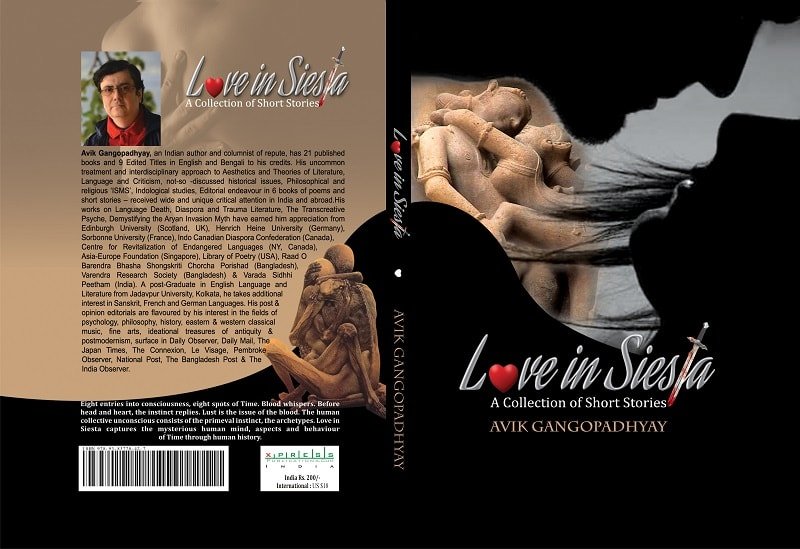 The formal opening of the book by Ahmed Tahsin Shams was followed by the screening of the visual trailer of the book. Produced by Avante Garde Productions, Bangladesh and directed by Ahmed Tahsin Shams, a seven-minute Book Teaser, Love in Siesta based on three stories from the book was screened with mesmerizing impact upon the audience. With profound symbolic overtures, layers, counterpoints the teaser juxtaposes silence and darkness to enter into the archetypal instincts of characters focusing through the time past, present and future.
As some of the stories are translated from Bengali, rather transcreated, Ahmed Tahsin Shams discussed on transcreation, both from one language to other and from language to visuals with Avik's Love in Siesta in the pivot. Citing theoretical examples of limitations and flexibility of transcreation, he applauded in his speech Avik's critic-self that has consciously barred him from translating own stories.
The eight stories of the book are eight entries into consciousness, eight spots of Time framed by the evolution of human instinct with shades of changing socio-psychic rationale where man-woman relation remains in the pivot—be it in the enlightened dawn after primitivism, or eight thousand years before, or in five thousand B.C., or centuries later in 12th century A.D. or even in the run of contemporary living. To him the artistic finesse of the stories lie in the interplay of Time, morality and amorality, instinct and rationale.
Among the transcreators, Kunal Roy spoke on finding an adequate contemporary idiom used by the author in some of the stories and Kamalika Majumdar shared her experience on the stories that capture the primitive past that too needed a different narrative and stylistic linguistic idiom to recreate something so forlorn.
Author Avik Gangopadhyay, in his thanksgiving, shared with an exquisite wit the compositional background in moving through the time-machine into time immemorial, emphasised on the need of becoming a learned writer to understand why blood whispers, why before head and heart, the instinct replies and why lust is the issue of the blood. He concluded the Sunday, June 2, 2019 morning event by saying, "The human collective unconscious consists of the primeval instinct, the archetypes. Love in Siesta captures the mysterious human mind, aspects and behaviour of Time through human history."