When have you ever used your DSLR or camcorder to shoot more than few minutes of video clips in a controlled indoor or outdoor environment? If you want to record videos of your trekking adventures, would you hold a DSLR in your hand? Or if you are going to go Scuba diving, would you carry a companion just to hold the camcorder to shoot your videos? If the answer to all these questions is no, then you have to buy an action camera.
An action camera or action–cam is a digital camera designed for filming actionwhile being immersed in it. Action cameras are therefore typically compact and rugged, and waterproof at surface. An action Camera negates all the inconveniences of a traditional camera. It's lightweight, easy to attach through a wide variety of mounting stands (on helmet, on bike's handle etc.), can capture 60fps 1080p videos, some can also shoot 4K UHD videos.
Action cameras don't have a lot of physical controls on them: no interchangeable lenses, too. With a fixed lens and aperature, action cams are meant for capturing wide angle shot in almost all video scenarios, and almost all of them have supported companion apps on smartphones in case you need advanced functionalities for any occasion.
Action cameras are associated with outdoor sports, and, often attached to helmets, surfboards or handlebars, are an integral part of many extreme sports such as base jumping and wingsuit flying. Sometimes several cameras are used to capture specific perspectives, such as a helmet camera that sees the perspective of the actor in combination with a second camera attached to the environment of the rider, such as a board, wing, handlebar or wrist, that looks back onto the rider and records his reactions. Action-cams may therefore be referred to as helmet cams and by other similar names.
Having read about all the glittering positives of an action cam, time for some hard reality. It is important to remember that action cams can't replace DSLR or camcorders; they are meant to be used in scenarios where DSLRs or camcorders fail or become unwidely. Therefore, despite of being capable of crisp, high-quality 1080p or 4K videos, action cams operate within tight optical constraints.
The category is associated with the GoPro range of cameras, and many action cameras come with a GoPro mount adapter to take advantage of the accessories available for these cameras.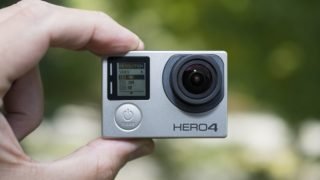 Other models of action cams include the Sony HDR-AS10, HDR-AS15 and HDR-AS30V, Garmin VIRB, Xiaomi's YiCamera,Panasonic HX-A500E, Toshiba Camileo X-Sports, Polaroid Cube, Mobius, Ricoh WG-M1, TomTom Bandit, Replay XD1080, the ENR, Epicam, the BeHD Virtue 4k WiFi, SJCAM (SJ4000).
Source: Wikipedia, Digit