Meet Mr. Best Personality Kolkata, 2016- Saurav Mandal
It was on July 19th, 2016, an event organized by M.A.D.Pixels Productions, Kolkata, to which I played stylist, editor in chief and host for the grand finale of Mr. and Miss Kolkata 2016, where the judges voted one glamorous boy "Mr. Best Personality"- Saurav Mandal.
The evening ended with a bang, with eminent judges from the world of fashion, photography, theatre and glamour gracing the occasion, and sadly with me losing my phone (yes, I have a new phone and a new number now). But I am not here to talk about me or anyone else, but about our rising star Saurav Mandal.
Saurav, I remember him at the auditions as a charming young man with a sweet smile, and a passion that goes way beyond words to describe, a go –getter of sorts. He is from Kolkata and did his schooling from St. Xavier's, after which he went ahead to pursue his degree in B.Tech (Chemical Engineering). But let me stop right there. Here's a small snippet of the tete-a-tete I had with him, and more than just a nerdy geek or a model in Kolkata, Saurav is an acer in many fields, so let him tell you more!
Me: Tell us more, the city wants to know you better
Saurav: Well, thank you for this opportunity and for everything you've done so far. Once I completed my B.Tech, I left everything in the hands of fate and almighty, but didn't lose my focus. I had a penchant to design clothes, women's wear especially but I do men's wear too. This was instilled and was incorporated  in me by the magnanimous work of renowned fashion designer- Manish Malhotra,  BIBA by Rohit Bal and of course, Vero Moda. And as an entrepreneur, I started a trend of designing dresses, prêt a porter and haute couture lines for women on a tight budget.
Me: That's wonderful, so apart from your modeling you are a designer too? Your source of inspiration would be…….?
Saurav:
Family especially, I owe them big time, and I look at Rohit Bal- ace maestro and the brains behind BIBA. I make clothes for women with real bodies and frames, not just for one size, so you can bank on me to make you something special!
Me: What kind of fabrics do you use for your creations?
Saurav: As a designer and keeping in mind the climes of Kolkata, I work with crepe cotton, crushed  cotton, viscose, rayon and silk  mostly. Now this is keeping in mind the weather here, the festivals we love to doll up for and also the personalities and individualism the Kolkata fashionable women have in large abundance.
So I cater to many tastes at a budget that doesn't pinch the pocket.
Me: What are your favorite colors to use on the clothes you make?
Saurav: I dapple with monochromatic shades with a touch of vibrant hues, so you would find plenty of blacks, whites, grays and with radiant yellows and orange in a mix. I feel personally that such shades bring out the best in an individual. But for my clients, I customize as per their needs and choices.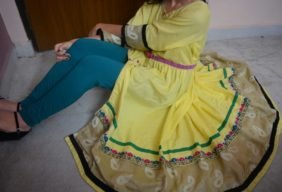 Personalities have to be respected, isn't it?
Me: Makes sense, this is why you won the Best Personality award right?
Saurav: Could be *smiles*
Me: Do you design for men and women?
Saurav: As of now, women only, I haven't thought full fledged for a men's line yet!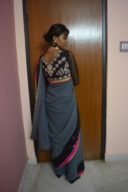 Me: So where does on shop for your products online?
Saurav: At the moment, my creations are available at ebay. Com, and I am talking to flipkart.com and myntra as well, because I basically design indian,  indo western,but i will be doing western also in the coming  months, so why not expand.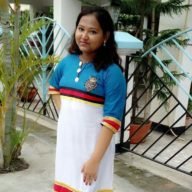 Me: Well, good enough and Thank You for this small talk, which the city needed to know, any last words?
Saurav: Just be yourself, follow your dream and reach where you want to without giving up. And don't lose hope if it isn't in the first shot, because Rome wasn't built in a day. Take care and keep in touch.
Toodles, until next time folksies 😀
DISCLAIMER: ALL PICTURES HERE ARE FROM THE MODEL'S SOCIAL MEDIA PAGE, ANYONE CLAIMING OWNERSHIP OF THE SAME, KINDLY REFER TO THE MODELS SOCIAL MEDIA PAGE HERE.