Magical Moments with the 'Master' of Tollywood ~ Rajatabha Dutta
On 28th December 2014, members of Laughalaughi.com were present on the sets of Mirakkel awaiting the presence of Rajatabha Dutta, great theatre personality and Bengali film actor. We were thrilled and elated. The interview was held in his makeup room. We sat mesmerized as he took us along through his journey in the film world and revealed to us his miraculous philosophies.
1. What inspired you to join this film world?
Ans. I had never thought of joining this world. A couple of friends of mine were connected to theatre indefatigably. They had literally forced me to join their group, Swapnasandhani. I was a student back then. They had presumed that if I join in cultural place/group. I would channel my attention and time in an admirable way. That was my beginning and just like in all other theatre groups. The newcomers usually spend this initial days weeping the floor or serving to others. This is considered the basic "ego breaking procedure" in theatre even after joining I had never thought of acting. I used to sit and watch my friends act. Later on I was casted in a play and because the character went well with my physique and look. That was my first play and had acted on stage for 7 – 10 minutes. It was called "Dui ar dui" Soumitra Basu was the director. Funny part is out of the friends who had introduced me to the theatre were no longer connected to it and are working in their fields. I had never thought of coming here.
What had been your first experience?
Ans. I had first acted in front of the camera as a junior artist. Name of the movie was " Ek Poshla Brsihti". There the dubbed voice was not even mine, someone else had dubbed my voice.
My first big character was in 1995, Tapan Sinha's movie "Wheel Chair ".
'Paromitar Akdin' won the BFGA award. Had you ever thought of winning this prestigious award while shooting it?
Ans. No there was no question of any awards. Before that I had worked with Tapan Sinha. I was extremely excited to work with Aparna Sen but had never thought of receiving any award for it. I am still surprised at it.
How many movies have you shot so far?Ans. I have shot 149 movies out of them 109 or so have released. Some of the rest have been canned. As in a film becomes out dated SOMETIMES due to IT not being released for ages. Movies get blocked due to different reasons. Right now there are around 12 – 13 movies that are soon to release. Some of them still have some work left, some of them are big budget films while there are small budget ones which will release really soon, as soon as the tit – bit works are complete.
Is there any particular genre of script that you like working with?
Ans. I like shooting all kinds of movies. An actor is such a person who gets to live a different person or an individual at the same time. It's like a plant. To rear one bud, we chop down all the other buds. The other buds were capable of growing into a flower too but we chose first one to nurture. A human's life is similar. They choose just one talent or one capability to nourish. When an actor is acting, even if it's for a little while, he gets to explore the different aptitudes in him as he plays different characters. I feel really sad the last day when my makeup is removed. It feels like I am leaving behind an individual.
What roles do you like to play? We have mostly seen you playing roles of villains or over protective fathers, do you have any special liking towards these?
Ans. No. the majority of my characters doesn't consist of negative roles.  If we keep the numbers in mind, out of them the number of villains I have played are less than half. Basically till 2002 I have worked with some really serious film makers and from 2002 to 2009 I have only acted in mainstream movies. Within that period of time I have acted in 9 movies with Mithun Chakraborty and out them them all I have always been the villain and after that I have acted with Dev in another  nine movies where yet again I was the villain. So you see it all depends on the audience.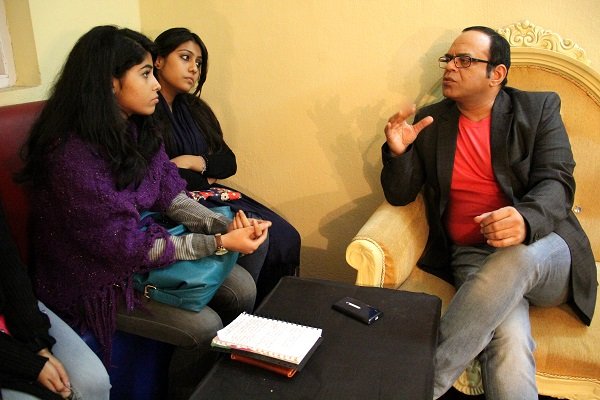 You were connected with a few Hindi movies such as Kaminey, Ek Thi Dayan, Mr. and Mrs.Iyer. how have been your experiences?
Ans. Experience had been almost the same. In Tollywood we need to work faster as a huge amount of money has been invested and it needs to be raised from the people. over there in Bollywood, the working time is more, the span of time is larger like there the pre-production procedure takes almost a  year, and the movie is also shot for quite a long time. Therefore you are connected to one particular venture for a long time. therefore you revisit parts of it again and again and thus the product is even more polished.
We haven't seen you much on screen in 2014, is there any particular reason to that?
Ans. like I said there are times when movies are shot yet due to certain problems or production issues, they are released late. But 2014 has been nice for me.
What is your next venture?
Ans. Right now I am working on a movie by Srijit Mukherjee called rajkahini. Anurag Basu's 'Jagga Jasus' and 'Saheb Bibi Joker'; a modern interpretation of 'Saheb Bibi Golam', which hasnt started yet. A thriller by Ayan Mukherjee where I play the character of a Persian diamond merchant. 'Natoker Moto' will release soon and 'Kolkatar King Company' is doing the rounds in film festivals and will release soon.
LaughaLaughi.com is delighted at your presence. We further hope to be enlightened by your presence.
Content Writing : Suryamita Roy
Original Copyright © 2014 LaughaLaughi.com
Tagged:
actor
bengali
comedian
Mirakkel
tollywood