An Interview with the stud ~ Bonny Sengupta
It was yet again an exciting day for the members of LaughaLaughi.com. Four of them were already present at Café Coffee Day, Golpark waiting intently for Bonny Sengupta, staring the latest hit, Borbaad. Soon we spotted the arrival of tall, fair and handsome guy. Introducing ourselves we sat down for a question answer session, rather a heart to heart chat.
Q1. You are very new to this film industry, so the first question to you is what or who inspired you to do this film?
Ans: the people who actually inspired me or rather supported me and forced me to join this industry are my parents. First I started working as an assistant director and then finally I was cast as the lead of Borbaad. My Dad was a theatrical personality, thus he guided me a lot. Both my parents are into the film industry thus they supported me a lot.
Q2. What gave you the opportunity to do this film?
Ans. Well I always wanted to be a cricket player but unfortunately that didn't work out as I fell sick and couldn't continue with. So I started working with dad. I started working out and making portfolios. Those helped me a lot. Finally I was cast for Borbaad. Shrikant Mohta, owner of Venkatesh Films helped out a lot. Director Raj Chakraborty had asked me to tone down to play the character. He too helped me a lot.
Q3. Tell us about your experiences while working in this film.
Ans. I had a fabulous experience working with such big names. It was big deal for me. I was always super excited. But eventually I had to calm down and concentrate on my character.
Q4. What was your character about?Ans. My character was completely a boy next door who loved bikes. My co actor Ritika Sen played the character of my childhood crush. The story proceeds as my bike goes missing. I had to tan my skin and tone down from 82kgs to 60kgs. It's a big achievement for me.


Q5. This is your debut film and Ritika has done two movies already. So how comfortable were you working with her?
Ans. Ritika is a very nice sweet adorable little girl. She is still a small girl. Just around sixteen I guess. When we first met on the sets of Borbaad, she used to refer to me as Bonidada. It was very awkward for both of us. But eventually we warmed up to each other and acting with her was smooth.
Q6. How did you feel about your initial success?
Ans. I felt I could have done much better. I want to assist Raj Chakraborty again in some more movies and learn more and then do more movies.
Q7. Did your first film motivate you?
Ans. Yes it did. It motivated me a lot. Yes I did come across a lot of haters but I don't pay any heed to them. I just concentrate on my work and improve myself. I improvise a lot too in my work. I am hoping to improve myself a lot in my upcoming movies.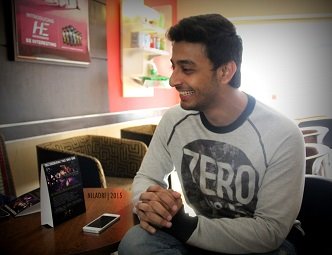 Q8. Have you thought anything about your upcoming movies? Are you inclined toward any particular genre of movies or scripts?
Ans. I am under the contract with Venkatesh Films, so I can't plan anything in particular. I have to do what my contract states me to do. But I would love to do more films.
Q9. There are a lot of fans cheering for you, specially a lot of ladies swooning over you. So any special message for your fans?
Ans. I feel really privileged to have this fan following though at times random people refer to me as "the guy from Borbaad". But I enjoy this a lot. All I want to tell to my fans is keep liking me and I will be doing more movies in 2015 and I am sure my fans will love those movies too.
Q10. From fans let's shift to another question, what is the secret behind your fabulous figure? How do you maintain yourself?
Ans. I had to tone down a lot before I started acting in this movie. Before the shooting started I had almost stopped eating. I was on a no-salt diet. It was tough but I was dedicated to it. I literally hated it but I did it and the results were mind blowing.
Laughalaughi.com wishes Bonny all the best for his upcoming movies. And just an update from the Laughalaughi.com team; ladies he is single!
Content Writing : Suryamita Roy
Original Copyright © 2014 LaughaLaughi.com