On face with Alivia Sarkar
An afternoon worth an experience with famous upcoming star in Tollywood, Alivia Sarkar. Loads of gossips and laughter revealed innumerable not known facts about her. A bag full of memories was what the 'Laughalaughi' team was blessed with!
Interviewer- Tell us about your journey in brief.
Alivia- My journey began as a junior artist,most people find it embarrassing to narrate their roots,but it's alright for me, I was born and bred up at Durgapur and when I got into the Calcutta turmoil, I resolved not to let my locality dictate my dedication towards work. I started my first serial "Dui prithibi" when the contracts surprisingly started to rise.. and then I took a gap of an year for some personal issues and came back with "Thik jeno love story".
Interviewer-Who has been your motivation or inspiration?
Alivia- Myself (laughs a little)
Interviewer- Why? Could you elaborate?
Alivia- I believe am self sufficient,self dependent and determined. I fancied the idea of doing business earlier, but then I saw acting is much easier (laughs). I haven't faced extreme complications yet, it has been more like "go with the flow" for me.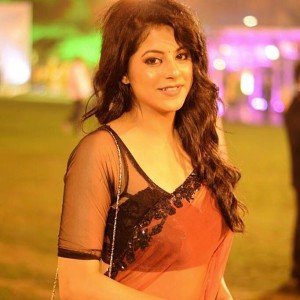 Interviewer- What is your success mantra to be able to play so many roles and attributes at same time?
Alivia- I would like to thank my make up team and my team for helping me understand the set and support me. I was nervous to play the role of 'Gouri'  who is very typically girlish, but after marriage she becomes more challenging, and I think I am lucky as an actress to have so many shades assigned to a single character.
Interviewer- What are the problems you have faced till now?
Alivia- Well, I wish I could act better..and yes many scenes come as hurdle with different genres to play in, other than that nothing else troubles me. (Smiles)
Interviewer-What is like playing Gouri,Jyoti,Poo..who was closer?
Alivia- Poo was very close to me, I never thought I could play it.. it was through poo many parents came to know of new terms that allied the modern voice.
Interviewer- Are you into theatres?
Alivia- No, I learned acting through work. 
Interviewer-How?
Alivia- Whenever I get the opportunity, I try to stay on set with senior actors and observe them, monitor and try to understand. I love to watch movies too.
Interviewer- What is your favourite movie?
Alivia- Dil wale dulhaniya le jayenga obviously(laughs) ,kabhi khusi kabhi gum and iam SRKian.
Interviewer– What is your favourite music genre?
Alivia– I enjoy listening to filmy Bollywood music of the 90s.
Interviewer-Any funny incident during work?
Alivia-Well, to recall, I remember in the shooting of 'Bhabachaka' ,Biswanath da told me that my eyebrows look more like 'Hoogly shetu', it always rises up. Also, I remember being ragged in Bhabachaka cause I didn't have a boyfriend and was teased humorously. And, at the first day of 'Thik jeno love story' , I remember carrying my saree as a lungi as it was my first time.
Interviewer-Your upcoming projects?
Alivia-Am focussing on 'Bojhena se Bojhena', I want to play Gouri well.. be more polished.
Interviewer- People have a tendency to go deep into the movies not serials, how would you say about the different styles?
Alivia-I believe it is all about grasping the character and executing it. Being determined leads to success, and well in movies it goes in frames and in serials you can take your time.
Interviewer- You are a dog lover? 

Alivia- I am.
Interviewer-Any advice you want to give to dog lovers?
Alivia- Treat them as your child, I have been raised between cats and dogs and my hands still bear scratch marks.They live a much lesser span than us and give us happiness, why shouldn't we return them same?
Interviewer-Tell us about the small project "Its forever"?
Alivia- It was left incomplete, but it had a good concept,we had many shooting schedules, me and somraj and trina. It's about love being expressed without direct linguistic indications.
Interviewer- Will it be completed in future?
Alivia-yes, I hope so.
Interviewer-Whom do you aspire to work with in future,apart from SRK?
Alivia-Well, there aren't any particulars, but I hope to work with Sonali Bendre someday. I would probably faint with nervousness if I am on set with my icons. Once, in Cinestar sequels I had to perform in front of Parineeti chopra, Vivekrishna Acharyya and I was appreciated well, except for my problems in Hindi diction(laughs).
Interviewer-What's your favourite colour?
Alivia-Red and black.
Interviewer-Any hobbies?
Alivia- Speaking rubbish (laughs), talking to myself, listening songs.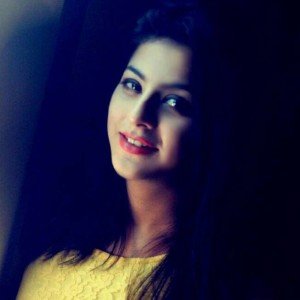 Interviewer-Any other fields you want to explore other than acting?
Alivia- Business maybe. I had a junior diploma in painting alongside being a champion in
Athletics,and being the captain of the kho kho team, I have plans on recording an album too,as I like to sing and it's trending to see all actors give a shot at music.
Interviewer-Any advice to upcoming actors?
Alivia- Please do not run towards fame,think of your work ,be dedicated and passionate.. everything else will sort out. To earn respect, you must learn to respect each little thing around.
Interviewer-Your whatsapp status says you are proud to be a Venkateshian. How different it is?
Alivia-I love this production house..they have always generated deserving and talented people. I remember starting my shooting with 'Misti Mukh' in the opening scenes of 'Thik jeno love story' and 'Bojhena se Bojhena'.
Interviewer- Anything you want to say to your fans?
Alivia- I love you all, keep all happy and be happy, and take no pressure.. it will work out well.
***
Interviewer– Swarnadeep Paul
Photographer– Sanket Sagar
Photo Courtesy: Google