2018 is just a few days away, and it's already time to get ready for the party celebration! The end of the year marks a number of Christmas and New Year parties and our preparations for them are in full swing. But before you set out to buy new clothes for yourself or you've run out of styles, take a look at the last minute outfit ideas that we have for you.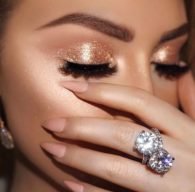 1. Glitter all the way- This is the season where you should make use of the shimmery and sequin clothes you have. They stand-out and you feel awesome shining all night. If you don't have one like that, sprinkle some sparkle on your eyes and body, using an eye shadow or loose glitters. Highlight your face, and also your shoulders and collar bones if you are wearing something off-shoulder or sleeveless.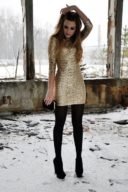 2. Layering and mixing- Why not mix and match and get your perfect look? Take out any dress and take it with a printed jacket and boots, also you can try wearing a thigh high stockings with a pair of boots, under a short dress to give an illusion of thigh high boots!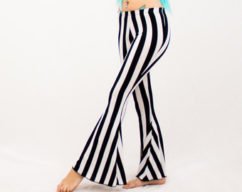 3. Chic bottoms- You can get away with overcoats and leather jackets on top, but your bottom needs to stand out! Choose a pair that accentuates your lower half. Most pants suit slim figures, but if you possess thick thighs, opt for wide leg bottoms, palazzos or culottes.
4. Dark, bold colors- All your blacks, wines, and dark colors are welcomed here! Also, wear some bold lip colors for that strong look. They make you look slimmer and give you that extra boost of confidence.

5. More is more- 'When in doubt, accessorize.' No matter how plain your outfit is, accessorizing it in the right way can really make a difference. Statement pieces are a great pick, or wrapping scarfs around your neck and a statement clutch would complete your look.
Whether you had your outfit ready and were looking for some extra tips to complete it, or you had  idea about what to wear, I hope these tips have helped/ will help you in some way. Ultimately, its all about the confidence to carry any look and having a great time with your dear ones!