Mon Bajare from Abar Bibaho Obhijaan takes Kolkata on a Vibrant Journey to Thailand
Abar Bibaho Obhijaan launched their second song "Mon Bajare" from the movie's soundtrack. Sung by the talented Nakash Aziz, the song has been composed by music director Jeet Gannguli, with lyrics penned by Prasen.
The song "Mon Bajare" is not just any ordinary tune; the video embodies the exuberant and dynamic party culture of Thailand. With its lively tempo and upbeat vocals, every aspect of the video oozes with excitement and enthusiasm. The song's catchy lyrics invite everyone to join in the festivities and revel in the lively atmosphere of Thailand's party scene.
The video captures the essence of the country's party mood, where the streets come alive with music, dancing, and laughter. Filmed in a funky pub in Thailand, the video showcases the leads' fun and quirky personalities. With its peppy tunes and infectious energy, "Mon Bajare" acts as the perfect catalyst to uplift the party theme and set the tone for an unforgettable celebration.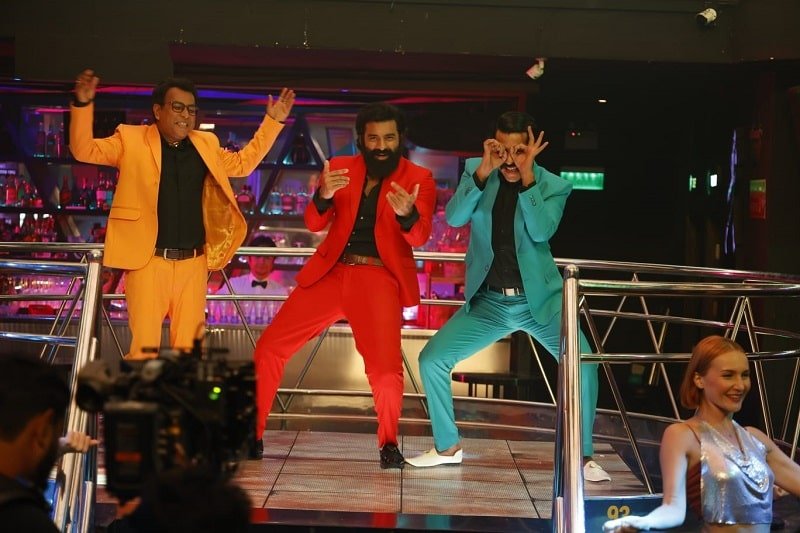 The song is now available on all major music streaming platforms and SVF Social's Youtube Channel. Mon Bajare is a must-have on every party playlist, and it's sure to get everyone in the mood for an unforgettable summer experience.
"Abar Bibaho Obhijaan" is the perfect comedy caper that follows the escapades of three couples who are eager to get away from their loving partners for a brief period. The men craft a story and embark on a journey out of the city, which leads to a hilarious and suspenseful adventure in Thailand. The movie is poised to be an entertaining and enjoyable experience for audiences. Anupam, Rajat, and Gansha return with renewed energy after a four-year hiatus, and this time, they promise to deliver even more comical mishaps. With this film, viewers can anticipate a side-splitting comedy that is sure to leave them in stitches.
Abar Bibaho Obhijaan is releasing on 25th June at your nearest theatres.
Tagged:
anirban
ankush
rudranil
svf
tollywood