There is No Shortcut to Success – Pt. Jyoti Goho & Sourabh Goho
There is No Shortcut to Success ~ Pt. Jyoti Goho & Sourabh Goho
In the afternoon of winter, the team of LaughaLaughi.com rushed to ITC-SRA to take the interview of a stalwart of Indian Classical Music, Pt. Jyoti Goho. An amazing and renowned Harmonium Player. At present he is the faculty member of the prestigious institute ITC Sangeet Research Academy. The team members were very nervous and excited too to see such a person like Pt. Jyoti Goho. After meeting him personally we can say 'He' is the most adorable and appeased person we have ever met.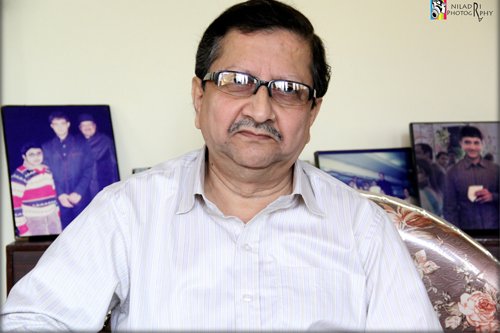 Born on 13 May, son of Shri Shyam Sundar Goho and Shrimati Bela Goho, he developed his keen interest for Music being lured by his mother's "melodious" voice which was further nurtured by his parents. Growing up in a musical atmosphere, he preserved to learn classical vocal music from the music gurus Shri Biren Bose and Shri Sanat Banerjee. Later he started taking lessons under the maestro of Classical Music Pt. A.Kanan, who fostered him with his vast knowledge and experience.
The talent of playing Harmonium was spotted by his Guru when he heard him playing it during class hours. His Guru encouraged him to take it as a profession and he followed his Guru's advice without thinking twice. He took severe training under his Guru for 6-7 years during which he used to practice for 12-13 hours a day. He used to remember the musical composition which he used to hear in the class hours and he used to play it on harmonium as soon as he reached his home.
His first entry into this profession was by Malabika Kanan where he accompanied her in a studio recording. Later he accompanied many stalwarts and maestros of classical music like Ustaad Ali Akbar Khan, Pt. Bhimsen Joshi , etc. According to a stalwart Pt. Bhimsen Joshi he is "very highly as an artiste" who is "extremely supportive as a harmonium accompanist".
A die-hard fan of Mohd.Rafi and Pt. Nikhil Banerjee, he thinks Music changes from time to time and everyone should accept it with an open heart. According to him, the songs which teenager hears most, that number becomes a popular one. He expects in order to be a good musician; one should go deep into the knowledge for music. According to him, Indian Classical Music has more variation and has more depth. He thinks that the quality of music degraded a bit these days and it is temporary in the long run.
He assumes that people still considers playing harmonium as an easy subject and still did not think it as a subject to be taken up as a profession. And his assumptions are very much true in the present scenario of the society. He performed in many shows in the country and abroad. He still remembers the concert in China where people loves his music and gave him a standing ovation. Besides music, he loves Football and Carrom game.
The ability to understand and adjust according to the mood and spirit of the performance made Jyoti Goho popular amongst all the musicians and music lovers. His art took him to place within the country and abroad. His mantra to become a successful man is "There is no shortcut to Success and one should word hard for it".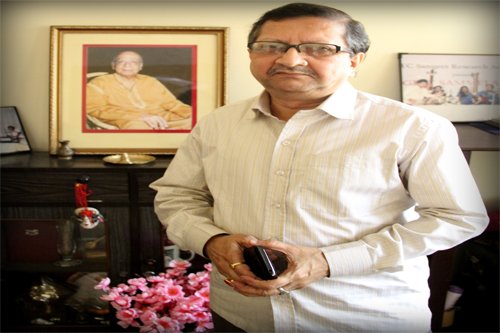 If Musical Genius Pt. Bhimsen Joshi hails him "extremely supportive as a Harmonium accompanist", what more can be said about this artist's accomplishments. Jyoti Goho has performed in all the major conferences in the country and abroad and melted everyone's heart by his harmonium. Some of the countries are U.S.A, U.K, France, Canada, Germany, Holland, Switzerland, Australia, New Zealand, China etc.
During this interview we met another artist who will conquer the world of music with his talent and skill and it is none other than his son, Sourabh Goho. A MBA student of Heritage Business School and a professional Tabla player, his inspirations are  Ustaad Allahrakha and Ustaad Zakir Hussain Pt. Shankar Ghosh and his son Bickram Ghosh. He started taking Tabla lessons from the age of 7 years under the guidance of Pt. Shankar Ghosh.
A fan of Sonu Nigam, he started his professional career in 2009 and he performed in many shows. Recently he performed a Jazz fusion in Delhi and He performed with his father at indore in the last month.He thinks that Indian Classical Music is not popular among the youth generation and he hopes it will gain popularity with time. Last year he went to China and he gave his Debut Performance (abroad).
When he was asked that 'Do you feel nervous during ShowTime or when you are performing with your father, sharing the same stage?' He replied, "Never, I never felt nervous and every day at night me and my father, we practice together. He said his motive is to spread this classical music to the 'Youngistaan'. Another question asked by our member, 'why did you choose Tabla when you have a masterpiece of harmonium player in your home?' He said, "It never attracted me, I just know how to play 'saregama…' not more than that. A video of Ustaad Zakir Hussain inspired me; this is the reason why I took Tabla. And my father has always encouraged me. So I never faced any problems."We hope that he will conquer the world of music very soon.
Laughalaughi.com wishes them all the best and it has been a great pleasure interacting with such wonderful persons like Pandit Jyoti Goho and Sourabh Goho.
Content Writing : Sukrit Sinha
Special Thanks : Deblina Roy
Copyright © 2015 LaughaLaughi.com
Tagged:
music
pandit
tabla