Passion to Profession ~ Pujarini Ghosh
Passion to Profession ~ Pujarini Ghosh
Perky and gregarious, the actress of Kolkata Calling, Pujarini Ghosh held us mesmerized with her sole happiness and elegance. Talking to her was like taking a walk in the park, her immense modesty, gleaming eyes and merry laughter keeping us entertained and charmed. Chirpy Ms. Ghosh is a sweetheart.
When the big opportunity of acting in Kolkata Calling came to her, her mind went into a trance uttering the words "is this real?" She was very excited but poised at the same time. The contract needed her to respond to it almost immediately. Keeping her composer she dialed the number of her dear friend Akash from South Point School, revealing the great news, her excitement as well as her mix-up mystification. Her friend guaranteed her of her wellbeing and asked her to definitely go ahead with the contract. Thus here began her long journey to her stardom.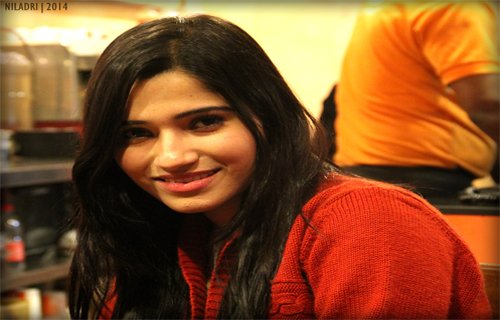 She had always loved acting. Though, she had never thought or dreamt of turning her passion into her profession, the fire for acting, in her heart had never burnt low. Her heart began guiding her right from the time she was a toddler. When she was just a little girl of four years or five years, she would persuade her mother to go to sleep early and the moment her mother was asleep she would try on her mother's dupatta, stand in front of a mirror and imitate some characters. After her schooling, she pursued her bachelor degree and master degree in films from Jadavpur University. During her masters, her love for acting impelled her to join a theatre group named 'Charbaak'. Right after finishing her masters she attended a workshop with Shoojit Sircar who made her a part of "Open Tee Bioscope" which acted as her big breakthrough and she did a wonderful job as an Assistant Director.
When asked about her inspiration in acting, she mentioned the likes of Jaliette Binoche, Kate Preissler, Tom Hanks, Kate Winslet. She understood acting and became more inspired watching movies of these prodigious actors and actresses. But the person who inspired her the most is Tom Hansen. She refers to him as the king of acting. Presently she has a collection of over six hundred movie DVDs from all around the world which is very dear to her and also an element of pride.
Pujarini's experience while shooting for Kolkata Calling has been breathtaking and stupefying. She had joined the cast and crew of Kolkata Calling almost after four to five days of shooting. After completing her role in the movie, she requested Mr. Mainak Bhaumik if could she be on the set with the rest of the crew through the entire movie? To that Mr. Bhaumik gladly welcomed her responding"OK! OK! OK COME!" She was eccentric on joining the crew and was also embraced by the entire team.
She remained with them through the entire movie, not just as an actress but as a fellow crew member. She has always been interested in painting and drawing since her childhood. "I got this talent from my parents" she exclaimed delightedly. She is interested in singing also. While shooting Chitra, the directors heard her singing and they really adored and admired it, asking her to give singing a chance leading her to record a song in the movie Chitra.
Her first movie Kolkata Calling was a big success. Her upcoming movies are Chitra, Sundori Kamala Naache and Postmaster, which along with Pujarini casts Rituparna Sengupta, Rajesh Sharma and Pallab Kirtania, a singer by profession,set to release in January 2015. In Postmaster, the adaptation from the famous short story written by Rabindranath Tagore, she is playing the role of a village girl named Ratan.
When asked if she has any particular message for her fans, the foremost and most essential aspect that she focused on is no opportunities should be missed or let go astray, every opportunity is important and imperative; they will only come once and never repeat themselves. She also advised; no matter what the circumstances are, work should always be taken seriously. Age does not count one's experience or intelligence and sticking to one's commitments is crucial without being distracted. It does not really matter if the work is minute or colossal; one should always put forth the best of what one has. "Dream big, take small steps and you will reach your goal faster" is her ultimate mantra and advice.
"Be very focused and honest to everything that comes your way. Do not act or pretend in front of anyone or show yourself as someone that you are not .Film is a craft, it is a team work. Never throw tantrums at anyone, it does not work .Be friendly but not reserved".
She feels that doing one or two movies will not make her eminent or paramount. One and probably the only way of ruling people's hearts is by contributing to the society in every way possible. Fame, by doing movies is fleeting and ephemeral like footprints on the beach, the moment the posters of the film are pulled down, no one really bothers about it anymore.
She likes to believe in the harsh reality. One always has to be on the right track. Today, as she is involved in movies which are hit and popular, she is in the news but the moment she stops or gets distracted from her path, people will forget her. Pujarini is aware of this cruel absoluteness. As she has always suggested and will be; being selfish does not help at any point of time. Teamwork is essential. "Do not think that you will do this or that all alone, any day you may need someone's help and helping each other is the path to success. Be very helpful; always share your experiences with others. Try to help each other. Make this a habit and it will shower double returns to you in your future".
In 2011, she got the 'Best Actress' prize in 'All India Theatre Competition' and she did an ad-shoot with Anik Dutta as well. "I would like to thank Mainak Bhaumik, Anindya Chatterjee, Gopi Bhagat, Sudeshna Roy, Abhijit Guha, Abhigyan Mukherjee, Dodo Chakroborty and to each and every other person. Because each of them has played a very role in shaping up my career."
Follow her on Facebook
Pujarini Ghosh has been more of a friend to us and Laughalaughi.com wishes her all the best for her upcoming movies.
Content Writing : Suryamita Roy
Original Copyright © 2014 LaughaLaughi.com
Tagged:
actor
serial
tollywood