1. Tell us about your childhood.
Sir : I was born in a small town in Jabalpur. My mother used to sing when she did the house hold works. I started giving the metronome since I was 2 years old. She heard me and started a game of singing and I continued doing that till she informed my father. They gave me with empty jars and after that small tablas. I started learning tabla at an age of 3 and even took part in small concerts!
2. Do you believe that everything depends upon luck or regular practice?
Sir : Some art forms are there which one must have within their blood. But one must do a regular practice to nurture those talents.
3. You spent your childhood in Jabalpur. How did the ambience of Jabalpur helped you in your career.
Sir : I gave my Visharad Exam when I was 12 years old. I could not pass the Matriculate Exam then. I was not serious about anything. I had went to a 3 day concert to hear Pandit Brij Bhushan Kabra, Ustad Zakir Hussain, Late Pandit Indranil Bhattacharya, disciple of Late Pandit Ravi Shankar and Late Pandit V.G. Jog. It changed everything in me.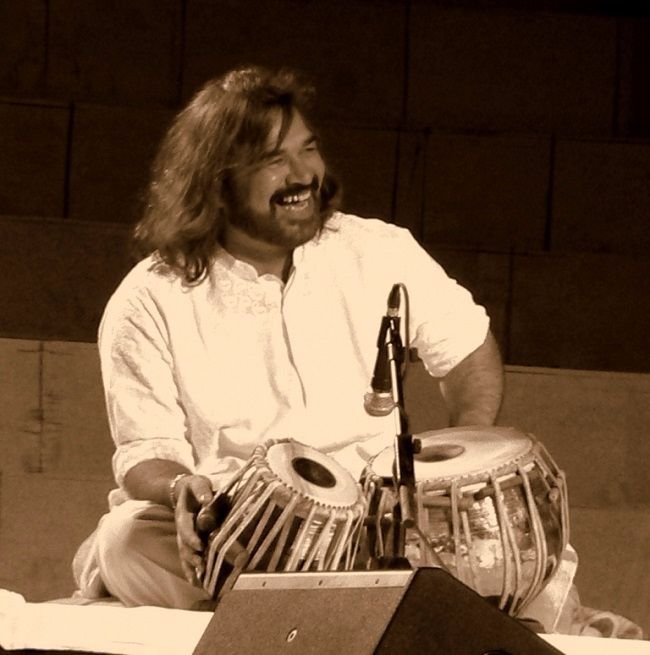 4. Tell us about your musical journey.
Sir : I realized that if I have to do something with Tabla then I must know it thoroughly. So, I decided to move to Bombay (now Mumbai) to learn Tabla under Ustad Zakir Hussain. I used to get a  scholarship of 180 rupees from Delhi every month. Pandit Ajay Pohankar, an Indian classical vocalist, born in Jabalpur, advised my father that if I have to learn tabla then I should go to Pandit Suresh Talwalkar. I still consider that moment as a gift of nature and Sai Baba. I followed the principal of Gurukul Paddhati (a method of being a pupul and learning from a guru, a master having an extended family.)
5. How did you start "Taalchakra"?
Sir : In India, there is no drum festival. Without Tabla, Dholak, Conga, Bongo, Khanjira etc music is not complete. Someone came up to me with the idea and I started it. I approached Ustad Zakir Hussain, Pandit Suresh Talwalkar, Pandit Kumar Bose, Anindo Chatterjee, Sivamani etc to collaborate with "Taalchakra" and they readily accepted the idea.
6. You have collaborated both with Indian and Western Musicians. Which one was the better experience?
Sir :  Good experience comes with good music and a good musician! I have played alongside Ustad Vilayat Khan, Ustad Bismillah Khan, Pandit Hariprasad Chaurasia, Pandit Jasraj, Pandit Shivkumar Sharma, Ustad Amjad Ali khan, Pandit Birju Maharaj, Vikku Vinayakram, U.Srinivas, Umayalpuram K. Sivaraman etc in Indian Gharana and with Goerge Dukes, Al Jareo, Larry Corriyal, George Brooks, Agberto Gismonty, Trilok Gurtu, A.Sivamani, Lue Banks, Shankar Mahadevan in Western Gharana.
It is not about Indian or Western. "It is always about good music"
7. Nowadays, people are more interested and have knowledge about Western Music in compare to Indian Music. Do you think that can be resolved?
Sir :  This is in the hands of the listeners and the media. Nowadays, the music are released for the mass. You cannot compare Michael Jackson or Elvis Presley with Mohammad Rafi or Lata Mangeshkar. So, there will always be a difference between Indian and Western Music.
8. If you get the power to change India to a rythmic India, how would you proceed with that?
Sir : I prefer teaching Tabla to children. If one practices the basic metronome, the focus level will automatically go higher. So, I would advise you to start by yourself with hard work and dedication.
9. How is Vijay Ghate infront of his family and acquitances?
Sir : I am friendly with my family. My daughters are my best friends. You need to ask them for their point of view! (Laughs)
10. Message for your fans and followers.
Sir : I never thought I had fans. (Laughs) I learnt Tabla to learn Tabla and not for getting famous and concerts. Whatever you want to learn, learn for that thing only, forget about becoming famous and the results.
11. Message for LaughaLaughi.
Sir : Always go in a positive way. That's all I have to say!
Public Relations Manager : Prithashree Mitra
Image Source : Google