Brace Yourself As BEING BONG Sweeps The City And Beyond
For most of the time, as a fashionista and a fashion stylist, I dig my nose into the nooks and corners of the city. Why? To explore and discover what's new, but hello, I don't mean fashion that is utterly ridiculously priced. If you know me by now, I talk about real stuff, which you and I can afford and look all decked up in, dolled up too.
A month passed by, and I was keeping my fashion senses alert. I wanted something meaty on the scene of styles, trends, street fashion alike, something unique and something that spoke of the true culture of Kolkata. I was almost about to give up when I stumbled upon BEING BONG.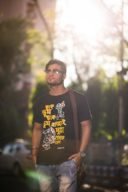 Being Bong what you ask?
I checked them out on social media, gave them a ring and decided to do a tete a tete, because as you again (well some of you would know), I can be the Anna Wintour like when it comes to trends and fashion stuff. Unless I am too sure, I wouldn't be writing about the style, the trend or the fashion statement. So here's why BEING BONG caught my fancy.
Unique motifs on each tee
Vibrant colors against the solid black hues
Street style redefined
The soul of Kolkata embedded
For once, I could relate to street style wear which every Kolkata man or woman can relate to as well!
And there are many more reasons why maybe the brains behind this concept worked on the tees, and I wish them luck for it. But without much ado, here is what the team behind BEING BONG has to say.
"The season of festivities is here and people across the nation have begun experiments in fashion. Once such name has recently popped up in Kolkata. Being Bong is the new entrant to the casual fashion spectrum of the east. Taking into account things that Bengali's love to be in love with, the brand celebrates culture and nostalgia in an all new avatar. Beginning their journey with t-shirts and more they plan to take the story beyond with regular doses of creative products flowing in."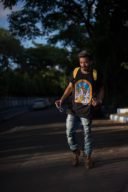 Further to this, the duo team says "The brain child of two young minds Dipanjan Mukherjee & Rangan Bhattacharya, being bong is the new happening kid of Kolkata. Having spent a few years in the field of advertising the boys now want to engage their grey cells with something different.
Launching their first line of apparel at a city exhibit and going all chirpy on social media, the brand has raised a few eyebrows already. Soon to be seen online and at retail outlets in the city, being bong is planning to be the hot favourite for all."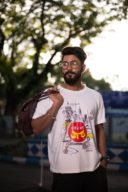 So there you go, BEING BONG is sure going to take you by your fashion hooks this festive season, and I am already booking some of the tees. But before that, here's how you can fashion up the unisex way- yes unisex, just because they have male models featured, it doesn't mean women cannot wear them too.
Wear them with shorts
Wear them with skorts
Wear them with skirts
Wear them with harem pants
Wear them with palazzos
Wear them with boyfriend shorts
Wear them with denims
Wear them with straight cut linen trousers
Wear them with long flowing skirts
Wear them with ripped jeans
Wear them with joggers
Wear them with gym pants
Wear them with your bikini shorts
Wear them with crocheted skirts
Wear them with sarongs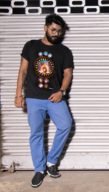 Just wear them with whatever you fancy and they would be your fashion statements to make. Don't forget the name, BEING BONG- you just cannot express your love for all things stylish and BONG without these guys!
Oh BTW! Models featured in this shoot are-
Mr Kolkata 2016, George Sanyal
Imran Alam, Manager Dee Empressa Hotel, Kolkata
Mr. Best Personality Kolkata, Saurav Mandal, and
Rittik Choubey, budding actor
Until next time, toodles!