Chaman Bahaar : Why Perspective Matters
Introduction
Recently Netflix released Jitendra Kumar starrer 'Chaman Bahaar' directed by Apurva Dhar Badgaiyaan presented by Yoodlee Films. The movie focuses on a small town 'Paanwaadi' Billu's (Jitendra Kumar) journey of pursuing his newly found crush Rinku (Ritika Badiani). It is an average movie with a promising plot having a certain set of ups and downs. But most importantly what it has done is igniting the toxic masculinity debate again. This resulted in a comparison with last year's controversial movie 'Kabir Singh'.
Plot
Set in Lormi, a remote town of Chhattisgarh,'Chaman Bahaar' captures the reaction of the small town youth when they discover Rinku, a new girl in their town. Rinku wears uncommon clothes in respect of the regular norms of that place. The director shows (sometimes excessively) the raw reaction of an ignorant youth towards the misfit girl of their town. Believing in theories like "Paagalpan hi sacche aashiqui ki nishani hai", "Ek Raani ko paane ke liye athara deewano ka hatya hota hai" the youth is manipulated by years of Bollywood's presentation of women and love. The scholar youth of that town treats Rinku as a definition of modernity. Maybe Having just one dialogue throughout the movie Rinku works moreover as a prop in the movie rather than a character.
On the other hand, we have 'Kabir Singh', who is the so-called rebel in a medical college. Kabir fights his rivals, tops his college. But most importantly he picks out a girl and stamps her as his "bandi". He denies the existence of anyone's consent except his own. As shown by the director, Kabir is a man who is suffering from excessive alcoholism, drugs, and anger issues. That's why he forces someone to strip on knifepoint, hits Preeti for not being able to choose between him and her father, and many more. Preeti, on and on a silent character accepts Kabir in every moment understanding his destructive nature of love for her.
Analysis
If you see both the movies in first hand then it is sure that anyone who is acquainted with wrongful prejudices of the portrayal of women in Bollywood will tame both the movie as problematic. But the difference underlies in the form of storytelling. Movie critics and media houses have bombarded 'Chaman Bahaar' as another addition to the list of Bollywood's Toxic Masculinity portrayal, even calling it as a low budget Kabir Singh. In my opinion, it is a bit unfair to the film. As a work of cinema maybe it has failed in other technicalities. I don't want to comment on that.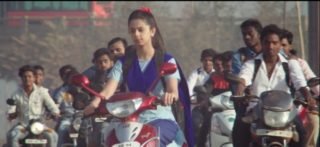 But the way 'Chaman Bahar' depicted this matter is way different from what 'Kabir Singh' did. Comparing both the movies side by side, we see there is a common silent female protagonist who symbolizes the ultimate prize in both cases. In Kabir Singh, Preeti having a fair share of screen time ends up being overshadowed by Kabir rather than supporting him. And in 'Chaman Bahar' director uses the lead female character (Protagonist is a very heavy word considering the contribution) Rinku nothing but as an important element of the story, nowhere near the purpose of a character. Both the movie shows the generalization of male entitlement in our everyday life. Where in Kabir Singh, Kabir referred Preeti as his 'Bandi' in various scenes; in 'Chaman Bahaar' the Shahrukh inspired chocolatey youth fights over the fact that whose soon to be wife Rinku is.
Budget 'Kabir Singh'?
But the instances where 'Chaman Bahaar' differs from 'Kabir Singh' is the way of imparting their messages. In 'Kabir Singh', the director portrayed Kabir as a victim of circumstances. It shows that he has no hold over his actions; 'Chaman Bahar' shows a set of imprudent youth normalizing the practice of stalking & molesting. 'Kabir Singh' somewhere glorifies Kabir's actions unintentionally. But 'Chaman Bahaar' just leaves this to the audience with their satirical tone of storytelling.
That is why 'Chaman Bahaar' stealthily questions these practices and other social norms throughout the movie. The director makes it a relatable mockery of popular Bollywood style of romance. But 'Kabir Singh' in the process of celebrating the immense love of Kabir for Preeti does the blunder of normalizing (& glorifying in some places) the malpractices of Kabir.
Conclusion
In 2019, 'Kabir Singh' touched that epitome of problematic storytelling which Bollywood had been practising for ages. Because of touching that breaking point, it had to face a great backlash. Which was a bit excessive and unfair at some points. But accusing 'Chaman Bahaar' for a crime it hasn't done is also a problem. The movie basically tried to focus on both the sophisticated and massy audience. It served equal elements of entertainment, wrapped in the universal flavour of comedy. Had the director erased the comic flavor and addressed the issue more gravely, maybe it would fail to reach the mass audience. Just for this comic-satirical undertone of the movie, it moves on to hit the string of an average viewer about these issues.
Chaman Bahaar' is on and on an average movie because of its slow pace and vague direction in some points. Though it is the strong highpoints that have pushed me to defend this indie work. The impeccable performance of Jitendra Kumar, fresh new songs in the soothing voice of Sonu Nigam and the use of folk song and tunes in different places are the highpoints which somewhere makes me biased towards the movie.
Have a read:-Kabir Singh", more than just a mere name!
Interpretation of any movie can vary from individuals. Your or someone's interpretation can be the sheer opposite of mine. But the movie evidently questions the malpractices towards women normalized from years in India's every other suburban society. That's why this movie deserves a watch from any movie-buff.
Love Cinema!
Thank You!