Interview of Shefali Alvares
1. You made your debut in a Telugu movie, "Saleem Kuch Luv Jaisa" with the song, "Oh! Mama Miya"! How was your journey from Telugu Industry to Bollywood?
A: Well, in Telugu it's just like I did two songs or so. I was trying a different thing at the beginning since I'm based on Jazz and Rock so, it was fun working in the Telugu Industry. Then suddenly, from there I got a switch to Bollywood. (Laughs) You know, it's a good switch.
2. What are your expectations for "Mohabbat Buri Bimari" and "Beech Beech Mein"?
A: I'm really such a person with no expectations at all. I just hope that everything goes well and the songs go popular. I'm happy that my music is out now.
3. Which genre of singing are you comfortable in?
A: Um, actually, all genres. Over the years, Bollywood has changed a lot so, there's much western influences right now.
4. As we all know, you come from a musical family background so, did you choose music just to follow the tradition or you were blessed with it in your gene?
A: I didn't follow it as a tradition. I always wanted to sing. I started singing at the age of three and I didn't have interest on any other thing rather than music.
5. I heard that writing is one of your hobbies so, do you wish to sing any song in future by giving it your very own lyrics?
A: I write and I paint also. I paint more than I write (laughs).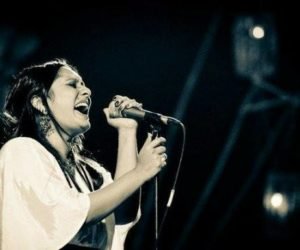 6. With whom would you like to work in future?
A: I want to work with A.R.Rahman, that's my dream. I hope that I get the opportunity to work with him. And yeah, Shankar Ehsaan Loy as well.
7. Who inspires you the most?
A: Sunidhi Chauhan. She's a versatile singer. And Arijit Singh too.
8. How would you define playback singing by lip syncing onscreen these days?
A: It's a lot of fun to work in studio for playback singing. Lip syncing used to be harder but now-a-days, it's changing.
9. According to you, who lips you perfectly or whom do you want to playback for?
A: None other than Katrina Kaif, she's really hot (laughs). But I think any actress, preferably, Katrina.
10. In recent days, there's a lot of improvising going on with the old songs. What's your opinion regarding this?
A: I think it's really cool to redo the old songs in a new way. The melodies were so good before and to create something new out of it with the modern minds, is really interesting. I like this trend, actually.
11. What's your say regarding the reality music talent hunts? Are those really fruitful or these are just carried out for entertainment based on the TRPs?
A: Well for me, I've never believed in these, honestly. I don't believe in reality shows at all. I just feel that if you are blessed with the talent and work hard enough then it takes you where you wanna go, eventually.
12. If you are given a chance to modify the Bollywood Music Industry, what are the plans you have in your mind?
A: Right now, it's ever-changing so, I don't think I need to make any changes in that. It has already changed so much for the last forty years, it goes through several phrases; retro comes back, it's constantly changing. I like it as it is.
13. Do you feel your marriage has affected the stardom in any way?
A: No, not at all. In fact, it has rooted me more. I still do that work which I used to do before my marriage so, it's not a big deal for me in any way. I just took a half and a year's 'chhuti' for my baby but still I'm doing whatever I want. My husband is very supportive and in fact my daughter, as well.
14. Would you mind to share about your upcoming plans?
A: I've a lot of shows, films in the coming season. So, let's see.
15. What message do you have for your fans?
A: Be happy and smile. Keep listening to music. Music is magic.
16. Few lines for LaughaLaughi.
A: Really good job. A nice interview. It was fun speaking to you. Love Ya! Thank You.