Adda with Ishani "Ranjha" Sengupta
1. Tell us about your journey in brief.
I always wanted to be a choreographer. My journey started since I became the winner of ABP Ananda's Face Next (Unish Kuri) in the RJ category. Before that I was a backup dancer and worked as an anchor in Dhoom Channel. I got a call from Ravi Ojha Productions for "Ranga Mathay Chiruni" which aired in Etv Bangla, formerly Colors Bangla. Now I am working in "Dwiragaman".
2. Tell us about your inspiration.
I never dreamt of becoming a part of the media industry. It was just luck which clicked even though my grandfather and uncle are associated with the music industry.
3. Share your experience in Dwiragomon.
Once Sharon and Michri (our lead pair) went to a mela (fair) in Burdwan; people told them to poison Ranjha (my character) to death. The experience was fantastic (laughs).
4. You love travelling. Which places do you want to visit in the upcoming days?
I love travelling with my friends. We have a plan to go to Sandakphu, Bangkok and Colombo this year.
5. Any unattended ambition.
I wanted to be a lawyer. If I get the chance I would like to do choreography for anyone and have my own dance group.
6. Tell us about your inspiration.
My father was very supportive and I know he still is! My mother has always supported me.
7.  What were the difficulties you faced when you started acting?
I was groomed by RedFM team which helped me a lot in anchoring. I was a novice when I started acting and I still am (laughing). I wasn't aware of how to stand in front of the camera, how to say etc. I thank the entire unit of Ravi Ojha Productions for helping me in getting over the difficulties.
8. Since when did you come to know Prosenjit Chatterjee (Bumba da)?
I know Bumba da since 2008. We used to dance as backup for him. 
9. What is your success mantra?
I do not believe in that rather I believe if you do your hard work sincerely, good things will come your way.
10. Three directors from Bollywood and Tollywood with whom you want to work.
Sujoy Ghosh, Sujit Sorcar and Rohit Shetty and ofcourse Srijit Mukherjee.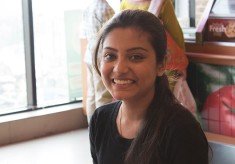 11. Do you have any dream working with Venkatesh Films?
It depends on my role and eligibility and not on the banner with whom I am working. If I like the role I have been given then I would work with any production house.
12. Any message for upcoming actors.
I believe I am no one to share any opinion rather I would like to wish them good luck for their successful career.
13. Any message for LaughaLaughi.
It was great meeting a bunch of young enthusiasts. You guys can be a good team along with time. All the best..Much Love..
" We wish for her bright future. Always smile and remain the way you are" ~ TeamLaughaLaughi
Picture Courtesy : LaughaLaughi and Facebook
Special Thanks : Kalpana Singh, Swarnadeep Paul and Aniket Das
© 2014-2016 LaughaLaughi. All Rights Reserved.