Mysore Palace : The most visited place after Taj Mahal
It's the official residence of the Wadiyar dynasty and the seat of the kingdom of Mysore. Mysore is commonly described as the city of Palaces and there are seven more  palaces including this one. The construction was started at 1897 and completed at 1912.
Mysore palace is now one of the most famous tourist attractions in India, after the Taj Mahal with more than 6 billion annual visitors. The architectural style of domes of the palace is commonly described as Indo- Saracenic, with blends of the Hindu, Mughal, Rajput and Gothic style. It is a three story stone structure with marble domes, and has a 145 foot five story tower. There are fire extinguishing machines located in all parts of the palace in order to prevent any fires. The palace has three gates: the East Gate (the front gate, opened only during the Dasara and for dignitaries), the South Entrance (for public), and West Entrance (usually opened only during the Dasara).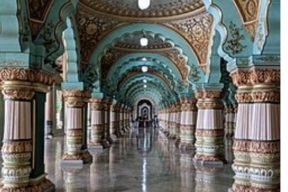 The Mysore Palace was built adjacent to the even older Parakala Mutt headquarters, whose leaders have remained the rajagurus (royal teacher and guide) of Mysore Kings. The kings of Mysore were devotees of Goddess Chamundi, hence the palace is facing the Chamundi Hills. The palace houses two durbar halls (ceremonial meeting halls of the royal court) and incorporates an array of courtyards gardens and buildings.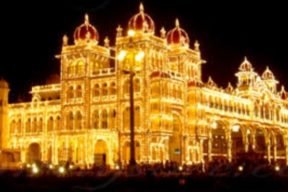 The last palace known as the old palace or the wooden palace was burnt into ashes during the 1896 dasara festivities. Maharaja Krishnaraja Kempananjammanni Devi, commissioned the British architect Henry Irwin to build a new palace.