Police Brutality & System: Ardh Satya
Introduction:-
"To advocate and implement the law objectively, and to shield life, liberty, property, human rights and dignity of the members of the public;" (Police Powers & Duties) [The Police Act, 1861]
Though reality speaks a different truth. Police brutality is no new phenomenon in India. It had set many spine-chilling levels in past years. In these desperate times happenings like the custodial deaths of Jayaraj and Bennix in Tamilnadu or the bare body manhandling of Karnataka doctor Sudhakar Rao has raised the bar of concern. We also have come by many online videos of police harassment in the name of maintaining lockdown.
Among many other reasons, media outlets have often highlighted Bollywood's problematic portrayal of the police. Which consists of the practice of using beyond the lawful processing to carry out mob justice. Though It is also a fact that these scrupulous observations are mostly based on 'Masala' ones. If we do not tend to generalize every Bollywood cop movie to be a story about good Samaritan with loaded muscle, then we have plenty of stories depicting the humane life of a cop, a non-exclusive part of this obtuse system. One of them is 'Ardh Satya'(1983).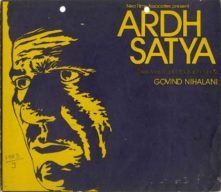 Plot:-
Directed by Govind Nihalani, 'Ardh Satya'(1983) is the story about SI Anand Welankar(Om Puri). Anand, a motivated new officer, intertwines into the monopolies of the system. Anand struggles to put up with the incorrect yet regular practices of his organization. By the time he starts to compromise with his values. Anand reaches to a never-ending cycle of a corrupt system. A cycle that is indifferent to his existence and efforts. 'Ardh Satya' was both economically successful and critically acclaimed.
But more than that S.D. Panvalkar and Vijay Tendulkar depicted a gritty picture of the police system, remembered for ages. A system that is run by ordinary people like us, who have the same set of aspirations and reservations. It is the story of how that ordinary human being reaches to that mental breaking point where he beats a man to death. Here I am discussing Anand's potential put-ups to reach that kind of insanity.
Disturbed Childhood:-
In the movie, we get to see that Anand had a very strict and abusive father (Amrish Puri). Anand's father, police personnel himself, has an impulse to keep things in control. Be it Anand's studies or his marriage, Anand's father wanted to control everything. Anand's father never considered listening to anyone's opinion as an alternate option. Anand's mother has given up herself to be the punching bag of his father. Anand suffered constant mental bondage throughout his childhood. As a result, Anand has a short-tempered nature. For these reasons Anand constantly strives to run his life into his own terms.
Exhaustive Worklife:-
Addressed in quite some scenes, the director showed that the life of a policeman is not a bed of roses. Whether ethical or unethical, one has to follow certain norms to survive. In the movie, Anand never seemed to made peace with those practices. To escape the mental breakdown, Anand constantly rests himself on alcohol. This results in him contradicting his own values day by day.
Obsession with Masculinity:-
In the movie, Anand's time to time refers that his inability to challenge criminals incorporated with the system is making him psychologically impotent. Every single time when Anand confronts a problem, he considers that a challenge to his masculinity. This sense of masculinity intensifies when he sights Jyotsna (Smita Patil) getting molested, or remembers her mother getting beaten by his father. To protect his sense, he switches to a violent way. The constant hindrance in the way of duty triggers Anand to store a vicious rage for the criminals
Feeling of Betrayal:-
Over time, Anand realizes probably the most important message, one of many truths of the movie. Anand realizes that he is there just to carry out the orders under the disguise of constitutional power. Willingly or unwillingly he becomes just a part of the same system which is running this circus of democracy. It is the same organization that Anand always adored, respected, but never got any recognition besides his bravery. Anand acquires nothing but mental and physical exploitation for his honesty. This urges him to take out his flow of anger. He does that to a weak accused, beating him to death in his custody.
Also, You Can Read:- Chaman Bahaar: Why Perspective Matters
Conclusion:-
Along with other different themes, 'Ardh Satya' also addressed the issue of police brutality in the most responsible way possible. It helps us to think about this subject from both points of view. Films like 'Ardh Satya', 'Sarfarosh', 'Shool' has been cementing the fact that a cop doesn't have to be a superman to attract people to theatres from ages. Indians moreover love cop movies. But movies like these sent a sensible message to the mass while entertaining them at the same time. Maybe It is the time when we should start to be a bit more sensible about what to show and what to watch.
Thank You!
Love Cinema!