Bitnoon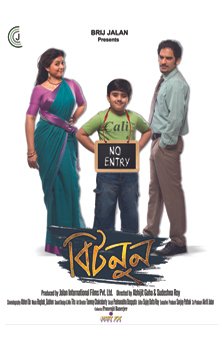 Genre Comedy
Direction- Abhijit Guha and Sudeshna Roy
Cast- Ritwick Chakraborty,Gargi Roychowdhury, Saayoni Ghosh
Duration- 1 hour 49 minutes.
Rating- 

Story- Rahul (Ritwick) and Moushumi (Gargi) are happily married and they have a six year old son who considers that his parents cannot be trusted alone. Thereby, the couple hardly gets a personal time for each other. Frustated Rahul bumps into dancer Rusha (Saayoni) leading to an extra marital affair and some funny consequences.
Review: The name BITNOON is really apt for the spicy, funny and brackish moments revealed through the extra marital relationship as Rusha enters the life of Rahul who is sexually frustrated in his married life with Moushomi.
Talking about the film, the scenes were really hilarious with witty dialogues and comical way of presenting it. Ritwick Chakraborty as Rahul, again proved his versatility as an actor, who hold his expressions and body language very perfectly to portray the disappointment in his married life through the film. He was just flawless. Gargi Roychowdhury as a homemaker was satisfactory but could have added a little more punch to her character. Saayoni is good as a determined seductive lover of a married man but somehow it looked like she misfits the character of Rusha, though her performance is not to be questioned.
But, despite some good performances and lovely storyline, the characters are not well established with a proper background. Though the scenes made us laugh, something remained hazy. The characters didn't have some in-depth analysis. Rusha as a dancer could have been established in a different way. It looked strange when a girl all of a sudden enters a married man's cabin and seduces the man in their second meeting, though her character was not established as a seductress in the previous scenes. Moushomi's two different avatar as a Bengali old fashioned homemaker and her modern woman in the resort and in the last scene was a little bit confusing.
But, with a nice background music, some sugary songs, a comical storyline with cheesy dialogues, and marvelous acting, Bitnoon is a really good film to watch that will entertain you throughout.
P.S- All the fun-loving people, Please don't miss it.
Content Writing : Abhigyan Mukherjee
Original Copyright © 2014 LaughaLaughi.com