Shackles of All Days, 'Manto' and Nandita Das
• Working with Nawazudin Siddiqui, Paresh Rawal, Rishi Kapoor, how was your experience during the making of the film Nandita?
From the time I thought of making the film, I saw Nawaz as Manto. His lived-life eyes were perfect to portray Manto's many contradictions. Nawaz melts into the characters he plays and that was essential to make him a believable Manto. Rasika was also my first and only choice for Safia, Manto's wife. To find Shyam, his best friend took the longest time as most actors saw it as a "second lead"! I reached out to many, whose work I admired – most I knew but some I sought out. It has ended up being a fantastic ensemble cast and it would not have been possible without my casting director, Honey Trehan. He found amazing actors to portray real life characters such as Ashok Kumar, K Asif, Faiz Ahmad Faiz, Naushad Sahab and many more.
I am overwhelmed that so many actors lent their support; doing small cameos. They brought a huge amount of credibility and good will to the project. Whether it was Rishi Kapoor in the role of a sleazy producer or Paresh Rawal who despite our political differences, supported both Firaaq and Manto. Or Gurdas Maan, as a distraught father (not easy to imagine him as that!), or Javed Akhtar, making his debut by playing a witness defending Manto in court! They and many more worked for free to simply support the film and for their admiration of Manto.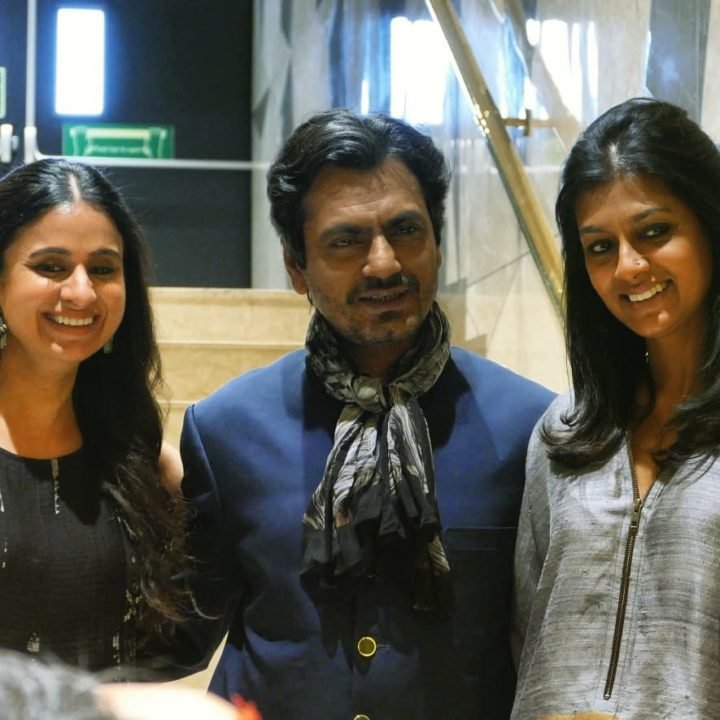 • Do you remember any funny incident during it's shoots, or any other incident you want to share with us?
Much of Lahore were shot in a small town in Gujarat. The first day of shooting, there was a refugee camp scene, so we were working with 250 villagers who were facing the camera for the first time. They would often look into the camera or give beautiful innocent smiles when they were meant to look fatigued and distressed, which seems funny now, but was quite difficult to manage then! We had actor-singer star, Gurdaas Mann, who graciously agreed to do a cameo as the lead in that scene. However, every time he got it right, there was somebody looking right into the lens!
• Voice narration, acting in films, theatre, directing a film, or a teacher— what interests you more, and lures you the most?
For me, these are different meaning to express and share my concerns and interests. I wear different hats at different times, depending on what I want to convey and what medium is the best for it. Along with acting, directing and social advocacy, I also wrote a monthly column for 8 years in the magazine, The Week, and have written from time to time in other publications when I have felt compelled to express something and connect with people. To create connections through our longings, angst, introspection and concerns and to bond over those are things I aim to do through my works, whatever the form or the medium might be.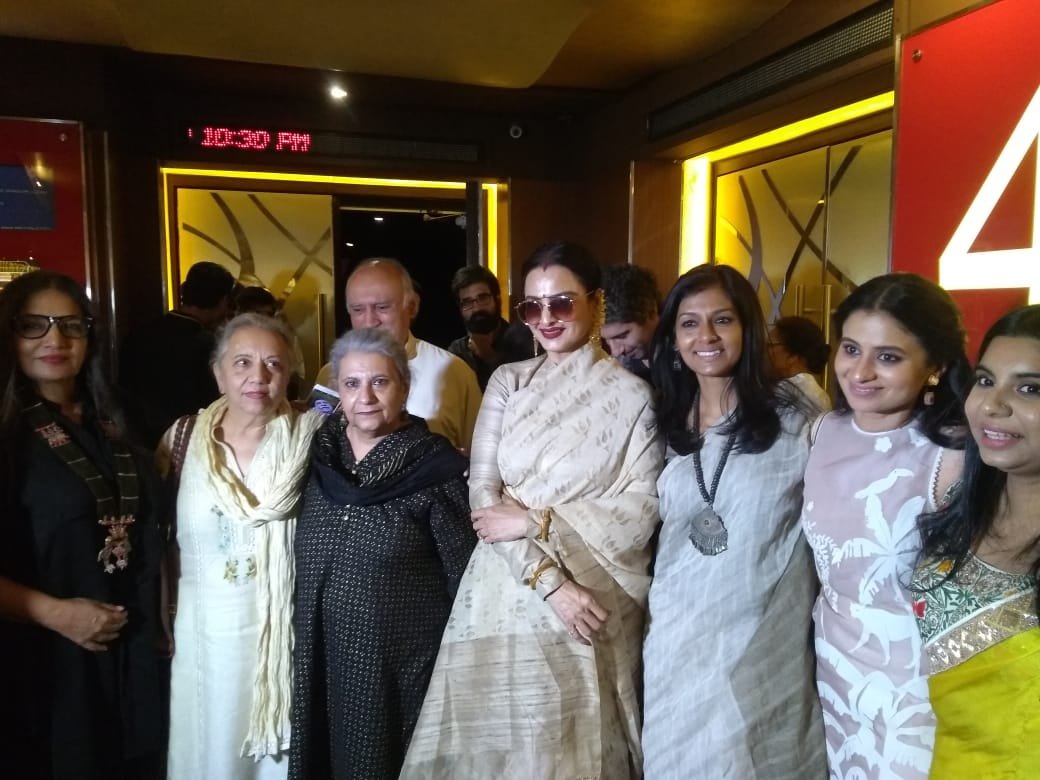 • How did it feel to become the first Indian to be inducted into the International Hall of Fame of the International Women's Forum in Washington, DC?
When I got their letter of invitation to the Gala, it said, "The International Selection Committee representing women leaders on five continents chose you to receive this award for your sustained contributions to the arts and to the world as one of the most gripping cinema arts leaders of our time who has shown us what both-feet-on-the-floor authenticity looks like and how keeping your values in focus and applying your talent can fuel women and the world forward." Seldom awards are given for one's beliefs, and I am grateful to have been awarded for living with the courage of my convictions. But with this recognition and influence comes the responsibility to be a greater voice for the millions of voiceless women. Having said that, it is all a drop in the ocean and I am just contributing my little drop.
• Over 40 feature films, that too in different languages, you have been traveling and attending to so many Film Festivals, and obviously your own directorials — how do you manage everything all together?! And what take up the highest positions in your priority list?
Like all women, I multi-task! I continue to travel the journey of life with multiple interests and concerns but thankfully without the pressure of proving myself or fearing the consequences. At different points of time, different things take priority, but I have learned that there is always time for what one really wants to do. As a woman, it is tough in our kind of society to juggle family life and a career. But I think it is important and good for children to see his mother working and enjoying it.
My son and Manto are my biggest priorities at the moment. It is important to be meaningfully engaged for one's own growth and happiness. Manto, and of course my son, do that for me.
•Apart from 'Manto', what are your upcoming projects?
As of now, I am still deeply engaged and invested in Manto and will continue to be for some times, as I still have a number of Manto related events coming up as well as a number of festivals such as the Busan International Film Festival, Singapore South Asian International Film Festival and BFI London Film Festival among others. I am also working on a book about my journey through this film, so I am not working on anything new as of now. But I have already begun to get projects, which are very encouraging. I have found three scripts that I am quite interested in, to direct that is. In fact, I have received several projects for acting as well. But I do look forward to taking a break and getting into acting before I move on to my next directing project. Hopefully, it won't be another ten years!
• Any message for your fans.
Thank you for all your support and kind words – the responses to the film have been overwhelming and far exceeded my expectations. Please keep spreading the Mantoiyat!
• What drew you to Manto and how important is he now?
I was drawn to the honesty and courage with which Manto wrote. He had a rare sensitivity and empathy for his characters and portrayed them unfiltered. What drew me to the story of Manto was his free spirit and his courage to stand up to orthodoxy of all kinds. He was irreverent and had an irrepressible desire to poke a finger in the eye of the establishment, often with sharp humour.
Manto was relevant then and will continue to be relevant for a long time to come. Not much have changed. We are still grappling with issues of freedom of expression and struggles of identity. Almost 70 years later, our identities lie inextricably linked to caste, class, race and religion, as opposed to seeing the universality of human experience. Manto holds up a mirror to a society that has not changed much. In fact, in some ways, we have probably regressed. I know, he would have lots to say about the times we live in.
For me, making Manto is not just about telling people his story but to invoke the 'Mantoiyat' ('Mantoness') – the desire to be outspoken, courageous and free-spirited – that I believe all of us have, whether dormant or awakened. I think, people will see themselves more honestly. It will make them uncomfortable in a way that hopefully they would want to do something about. After all, don't we all want to be more truthful, courageous and free-spirited? Manto inspires us to be that.
• What was it like recreating 1940s Bombay and Lahore in India?
One of the toughest challenges for me was to recreate 1940s Bombay and Lahore in the midst of modern-day clutter on a budget that did not allow the luxury of extensive visual effects or of too many sets. Before I had even found money for the project, I had done several recces to find the right locations. I found some incredible locations hidden in narrow galis, Irani cafes in the most unexpected places, and homes that have been frozen in time. Of course, there are many that we loved and could not shoot in, because they were too expensive or were being repainted or people were too scared to give them for a shoot. The other challenge was to find Lahore in India as we, couldn't shoot in Lahore as we had initially planned because of the political tensions between the two countries. After an extensive recce across five cities, we finally found our Lahore in a small town called Vaso, in Gujarat. This journey of finding the right locations was special, because it allowed me to go back in time and discover places I would have otherwise never seen and that helped make the film more authentic to the times.
– Rishakhi Chakraborty