MTV Roadies Ankita Pathak
• I will begin by asking, how are you doing Ankita?
– I am good.
• We know from the time of Roadies auditions of you being into Uttarakhand Police, how does it feel to serve the nation?
– It feels great. It's a mixture of proud & stress. At times we feel bad because even after working 24 hrs for public, we go through a lot of humiliation.
• What was your aim as a child?
– To be honest, during my childhood days, I wanted to be a politician as there was a lack of basic amenities in our village, like road drainage system of water & many more. As I started growing up, my aims started changing too. The thing that helped me to grow as a person was, my teacher's quote, "Naam ho ya badnaam ho, bass gumnaam na ho."
• What do you like to do in your free time Ankita?
– It depends on my mood and the time period. If I have a free time of more than 3-4 hours, I love to go out and travel anywhere nearby me and if less than that, I love to spend time with my family.
• What was the one thing that made you to try for Roadies auditions?
– The urge to do something new and to make an identity of my own, was somthing that pushed me to try for Roadies. But I had to stand on my feet before that and once I joined Uttarakhand Police, I started taking preparation for the audition.
• How was the feeling of getting selected in the Roadies?
– It was a dream coming true moment. It took me more than 4days to believe that it's happening. Infact, I actually started believing when I saw myself on T.V.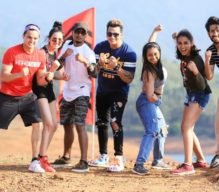 • How was Prince Narula as a gang leader?
– He is a very enthusiastic person. He always does his best in every field and I feel that my personality relates with him. He was very supportive throughout the journey and always acted like a shelter for us.
• Apart from Prince Narula, who was your favourite gang leader Ankita?
– All of the gang leaders were very supportive and inspiring at the same time. But yes, Raftaar sir was very genuine and very down to earth.
• Tell us something about Ranvijay Sir?
– Words will fall short if I start saying about him. Honestly, he was the main person for me to think of trying for Roadies. He is an idol of mine since the days I started watching Roadies. I used to watch his personalities very closely so that it helps me to become someone like him. I used to perform all the tasks gracefully only for his appreciation.
• What do you want to say to all your fans loving you?
– I just want to say thanks to all my fans, I feel very overwhelmed because of their love and support and ek bat zarur bolna chahungi, sapne dekhna mat chodho, koi bhi sapna bada nahi hota bas use pura karne ki zid honi chahiye!
Atrisa Dutta