Honouring Avik Gangopadhyay : An Author with Rare Thematics
August 26, 2018 at the premises of Kolkata Press Club, Chetla Ankur Art and Cultural Institute of India organized a Panel discussion on four pioneering books of Avik Gangopadhyay. In this panel two panelists were from Bangladesh. The programme was moderated by Soma Dutta, Faculty, Media Science and English.
The four panelists were Ahmed Tahsin Shams, Lecturer of the Department of English in Notre Dame University Bangladesh and Asst. Editor Bangladesh Post, Nazmun Naher Shishir, a journalist in Daily Observer and a literary critic in Bangladesh, Dr. Avijit Majumder, an independent researcher, Art and Music and Jaideep Mookherjee, an independent researcher, Comparative Literature and Indology.
Avik Gangopadhyay has been venerated with a recognition for his distinctive literary strive and recent awards from home and abroad.
Avik Gangopadhyay was awarded the "Editor's Choice Award" for his "Achievement in Poetry" from the Library of Poetry, USA, in April 2002. He devoted his time to answer queries as an "Expert" on the first half of 20th century on the esteemed webzine on Classical Literatureacross the globe. It is to be mentioned that Avik Gangopadhyay is an author and editor of 30 books published on aesthetics, theories of art and literature, language, and criticism.
He has also been awarded "Jnan Sarasvathi Samman" in 2017 from Varada Siddhi Peetham, India, for his contribution on his research on Saraswati and Indological studies. His works on 'Language Death', 'Diaspora and Trauma Literature', 'The Transcreative Psyche', 'Demystifying the Aryan Invasion Myth' have earned him awards from Edinburgh University(Scotland, UK), Henrich Heine University (Germany), Sorbonne University (France), Indo Canadian Diaspora Confederation (Canada), Centre for Revitalization of Endangered
Languages (NY, Canada), Raad O Barendra Bhasha Shongskriti Chorcha Porishad (Bangladesh), and Varendra Research Society (Bangladesh).
Book reviews and Profiles of Avik Gangopadhyay have already surfaced in The Times of India, The Hindustan Times, The Statesman, Anandabazar Patrika, Boier Desh, Saptahik Bartaman, Ei Samay, Ekdin, Daily Observer (Bangladesh & France), Bangladesh Post, Dhaka Review and other leading literary columns of newspapers, e-journals and in the internet.
Avik Gangopadhyay attempts on not-so-discussed interdisciplinary regions where he approaches through history, psychology, anthropology for literary texts in a very well-crafted manner. With reference to this Ahmed Tahsin Shams deliberated on two of his two books: "Bhasar Mrityu, Lupto O Biponno Bhashar Khoj" and "Diaspora and Trauma Literature". These books are based on language death, evidence of extinct languages and scripts, language revitalization and on the trauma of the displaced people across the globe.
The next panelist Dr. Avijit Majumder who musically approched his session and talked on Avik Gangopadhyay's book entitled "A Meta-critical Aesthete in Tagore" pointing on the concept of transcreation, where Avik Gongapadhyay blazed a new pathway to study Tagore's creation. 'Tagore didn't translate his work from Bengali to English but totally gave rebirth to the texts to make them Original', Avik asserted.
Another panellist was Mr. Jaideep Mookerjee who touched upon a new aspect on Avik Gangopadhyay through focusing lights on his book titled "Saraswati: Protnotatwik, Sanskritik-Nritatwik Nandonik Prekshit" where Avik exploded the Aryan invasion myth.
Lastly, Nazmun Naher Shishir addressed on different realm of Avik's works, which are his Post and Opinion Editorials, critical reviews and approaches of reading classics published in daily newspapers. She described how his works are not only meant for the academics, but also for mass from any dicipline with whom Avik Gangopadhyay liaised with his eloquent semantic stylistics on socially relevant topics which are under discussion.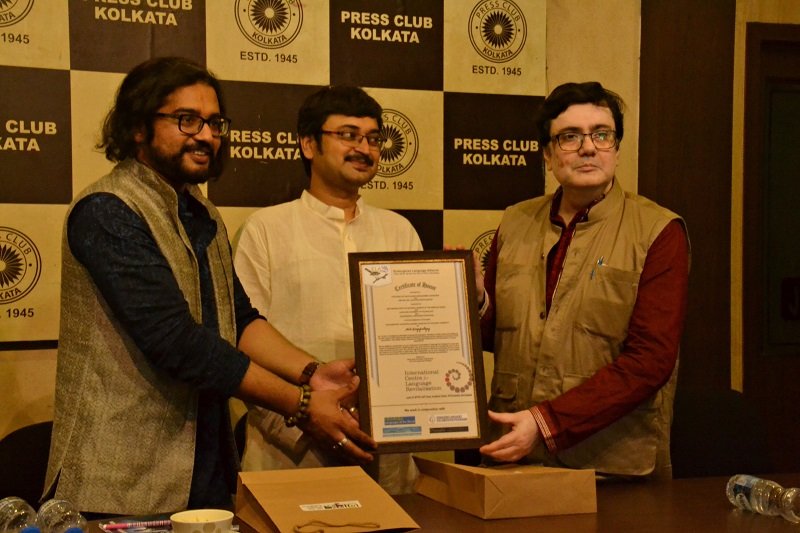 The programme ended with conferring an honorary remembrance to the author and editor Avik Gangopadhyay and his words recalling his journey as an author. The four panellists were also greeted with Mementos for their presence and valuable speech.