Hoichoi releases the first look of Montu Pilot 2nd Season!
Kolkata, February 19, 2022: hoichoi unfolds the look of popular actor Saurav Das, from Debaloy Bhattacharya's upcoming 2nd Season of the hit series, Montu Pilot.
After the incredible success of the first season and the tremendous response received by Saurav Das in and as Montu, the audience was eagerly waiting for the return of Montu and his journey in the Second Season among the audience. Now with the intriguing revelation of the first look of Saurav Das as Montu for Montu Pilot 2, hoichoi has surprised its fans and taken up the excitement by manifolds for the second season of Montu Pilot.
Saurav Das is a widely acclaimed actor who takes on the persona of any character he plays and this time with the intense look transformation and the bald appearance in Montu Pilot 2, he is once again set to narrate the story of a fiery revenge as the infamous Pilot of Neelkuthi.
Saurav Das' look from the upcoming series has been revealed on Instagram with a post from hoichoi and the actor himself. Saurav Das playing the titular role in the series is right now shooting for the same.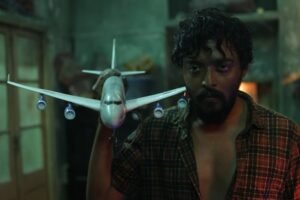 The 2nd Season of Montu Pilot will have Saurav Das and Rafiath Rashid Mithila as its lead cast. However, what happens with the character of Bhromor played by Solanki Roy, is yet to be revealed in the upcoming series of Montu Pilot.
Commenting about his look, Saurav Das said, "Montu Pilot is a passion project for me. I have been always excited about experimenting with myself as an actor and being Montu gives me that space every day. I feel excited as my look from the series just dropped. I remember being under wraps to keep it undisclosed while preparing for the role and now that it has been revealed, I hope the audience gets to see the Montu that they were waiting on as we set to return with Mon."
Watch the look here:
About hoichoi:
hoichoi is a leading Bengali entertainment platform with over 2,000+ hours of Movies, exclusive Original Series, Songs, Music Videos and more. hoichoi aims to take the best of Bengali content globally and connect the 250+ million Bengalis residing worldwide to their roots. With features like Offline Download, AD free Seamless Viewing Experience, unlimited HD Video Streaming, Bilingual Interface (English & Bengali), Multi-Device Capability, Progressive Web App, Parental Controls and English Subtitles – one can download the hoichoi App from Android (http://bit.ly/AndroidHCDownload) and iOS App Stores (http://bit.ly/iTunesHCDownload) to watch on their Mobile Phones, as well as on Desktop/Laptop through www.hoichoi.tv and on TVs through Amazon Firestick, Android TV, Apple TV, Mi LED TV, LG SMART TV, Samsung Tizen and Roku.
Founded in 2017, hoichoi is the maiden venture of SVF under its new media section, and is headed by Co-Founder Vishnu Mohta who is also the Executive Director of SVF.