Review : Wazir
Initial release: January 8, 2016 (USA)
Director: Bejoy Nambiar
Music director: Ankit Tiwari, Shantanu Moitra, Prashant Pillai, Rochak Kohli, Rohit Kulkarni, Gaurav Godkhindi
Rating: 

"Khel khel mein…
Khel khel ke…
Khel khel ye aa jaayega.
 Haar jeet se…
Haar jeet ke…
Jeet haarna sikhayega."
Yeh khel hai Shatranj ka.
However, instead of the black and white checkered board, Bejoy Nambiar shows how life is like a game of chess in his movie "Wazir".
The film starts off with a beautiful, slow song "Tere Bin" where we are introduced to the ATS officer, Danish Ali (Farhan Akhtar) and the elegant dancer Ruhana (Aditi Rao Hyadari). The film depicts the build up of their romance in the song, leaving the script for the actual turn of events. This starts when Danish chases long -wanted mobsters which leads to a shootout killing his only and beloved child daughter. Danish and Ruhana both unspokenly blame the former and Ruhana mourns in a corner leaving her husband so abandoned that he puts a gun to his mouth.
Enter Pandit Omkarnath Dhar (Amitabh Bachchan). Although initially he is just a stranger in a car who manages to save our protagonist from committing suicide, he has a far more important role in his life. Danish gradually gets acquainted to this Grand Chessmaster and gets sucked into not only the game of chess but also into Omkarnath's tragedy.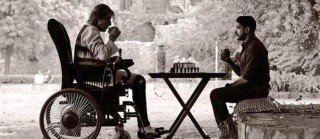 All good heroes need a good villain, and here actor Manav Kaul portrays the shady politician whom Omkarnath believes to be his young daughter's murderer. His acting, though not extraordinary, is good enough and establishes an interesting storyline. Neil Nitin Mukesh, the mysterious assassin who hides behind the name "Wazir" is appropriately maniacal and brings a thrill to the plot.
The ending of the movie, although presents a somewhat predictable twist, ends with revenge being obtained with a devious and perfectly implemented plan instead of the typical blood-bathed fights which Bollywood movies just can't seem to do without.
The highlight of "Wazir" is definitely the Big B and our beloved Farhan Akhtar working side by side and the movie is worth a watch.
Picture Courtesy : Google
© 2014-2016 LaughaLaughi. All Rights Reserved.