Prem Ratan Dhan Payo ∼ Review
Cast:        Salman Khan, Sonam Kapoor, Anupam Kher, Deepak Dobriyal, Neil Nitin Mukesh, Armaan Kohli, Swara Bhaskara, Aashika Bhatia
Direction: Sooraj R Barjatya
Genre:       Family
Duration:  2 hours 54 minutes
Rating:
Story: Prem ' Dilwala'( Salman Khan), a man who is a performer in Ayodhya sets out to meet Princess Maithili (Sonam Kapoor) who leads a simple life yet being brave to save people in the middle of floods while Prem shares the same face with Prince Vijay (Salman Khan) but with different point of views. So, who wins the battle of life in means of family, foes and fiance is represented through the drama.
Review: "Prem Ratan Dhan Payo" is poignant but lengthy and has an aged approach. Sooraj Barjatya who had set his standard with his films like " Hum Saath saath hai" , " Maine Pyar Kiya" or with musical family drama like " Hum aap ke hai kaun" in the 90's brings you again a film with his conventional style of presentation. In every few minutes, the film has dialogue songs which is quite redundant. It has the similar form of melodrama, family problems and stick on principles of life like the films in the 90's. The film has a very usual and traditional attempt which might attract the audiences of the 90's and previous to that. But, for the viewers of today, this notion of love and moral values is to take something with a grain of salt. Repeating what worked once before twenty years from now, might not guarantee success in today's revolutionary world as people has transformed over time along with their visualization.
Though the film has an essence , the heart placed accurately and the sets are outstandingly impressive, nevertheless it is hard to swallow. The film would have worked only if it was more consistent with the reality of today but it becomes unwatchable with the pointless practice of putting so many songs that are quite evocative.
The treatment of the film is overdramatic but the performances are quite adequate and worthy. Salman Khan fits well in both the characters Prem and Vijay which are extreme opposite to each other. And when Salman Khan is there in a film, people greets him with the same applauses even in the matured and placid avppearance. Sonam Kapoor looks much younger opposite to Salman Khan in the film, but speaking about her acting, she is graceful. She looks gorgeous in the well-dressed avatar of Princess Maithili. Niel Nitin Mukesh with his negative role has his character flickering in only few scenes throughout the film. Anupam Kher's character is not depicted properly in the film. His presence of acting fails to match with the character he portayed in the film though he might have done what he was asked to do.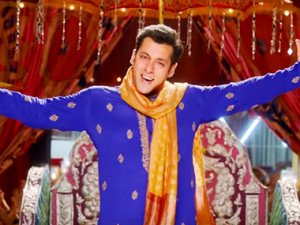 Overall, "Prem Ratan Dhan Payo" is a film identical to the films in the 90's. Sooraj Barjatya with his uniform style of making the film in today's times is exceedingly long and dull. It is monotonous and unexciting only other than Salman Khan's presence in the film.
Content writer : Abhigyan Mukherjee
Photo Courtesy :  Google.
Original Copyright © 2014-2015 LaughaLaughi