Nirbaak
CAST: Anjan Dutt, Sushmita Sen, Jisshu Sengupta, Ritwick Chakraborty.
DIRECTION: Srijit Mukherji.
GENRE: Drama
DURATION: 1 hour 49 minutes
RATING- 

STORY:   Intermingling the theme of vanity through a self- conceiting man (Anjan Dutt), passion of love for a woman (Sushmita Sen) by a stagnant breathing entity – a tree, a fascination of a dog for her master (Jisshu Sengupta) and an obsession of a man (Ritwick Chakraborty) for a corpse, the story through four evident sub-plots dealing with demise touches the aspects of fixation.
Review:  "Nirbaak" pertinently is speechless.  Srijit Mukherji who has notated the script himself brilliantly portrayed it on-screen with such a ground-breaking process that made Nirbaak incredible. The aspect of creating the power of visualization within a tree, the life within it, the passion for the woman or its demise or the phase of jealousy in a dog is alluring.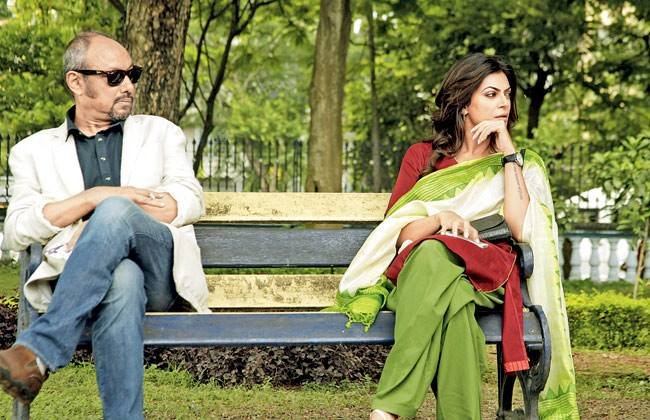 Anjan Dutt fantastically played the role of a solitary person in love with himself. He powerfully created the enchantment of fashioning the scenes in an entrancing and an appealing way through his self-rapt character. The lace that fastens the plots together are beautifully represented through Sushmita Sen. The stunning, gorgeous and the beautiful lady with her remarkable performance brought dynamism in each of the sub-plots while she is represented in dissimilar ways. Jisshu Sengupta with his elegance and appositeness as the master of the well-trained dog or the lover of an attractive woman is thoroughly excellent.  Ritwick Chakraborty didn't give the impression to play the character but he emoted so passionately which gave the impression of him living through it as usual like he does in all his films in an inconceivable way.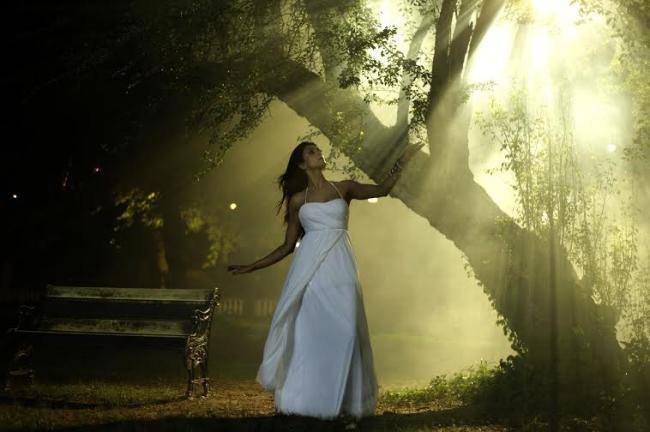 Neel Dutt's background score keeps an enduring impression on the audiences. It harmonizes with the scenes in a spellbounding way. With the credits rolling up, the only song from the film, Jodi Aakasher Gaye composed by Bodhaditya Banerjee and vocals by Arka Mukherjee, the audience bounds to remain speechless.
With an unexceptionally well cinematography by Soumik Halder, the sequences are made lively and dynamic, be it the shower scene of Anjan Dutt or the dance sequence of Sushmita Sen under a tree with an exquisite set up of lighting. Everything is just flawless.
The execution of shadowgraphy in the titles for the film pioneers the appealing factor in it. As usual, Srijit Mukherji brings something fresh and innovative through  this concept of shadowgraphy.
Srijit's bold attempt to make a film on surrealism is really respectable, though the film may not reach the psyche for the mass audiences. It might look bizarre for people who cannot connect with the unrealistic world. Otherwise, the film stands seamlessly for one to watch it again and again.
P.S- Watch Nirbaak and dream speechlessly.
Content Writing : Abhigyan Mukherjee 


 

 Original Copyright © 2014 LaughaLaughi.com
Tagged:
bengali
drama
movie