We all love to glam up ourselves in this season of festivals. So here I bring the review of an affordable liquid lipstick. Festive season is going on and soon the marriage ceremonies will be in corner so our makeup should be on the top range. Lipstick is something we girls absolutely love,  especially the matte ones but since sometimes our budget is kind a tight so we have to play smartly. Here I bring the liquid lipstick that is not only affordable but also good in quality.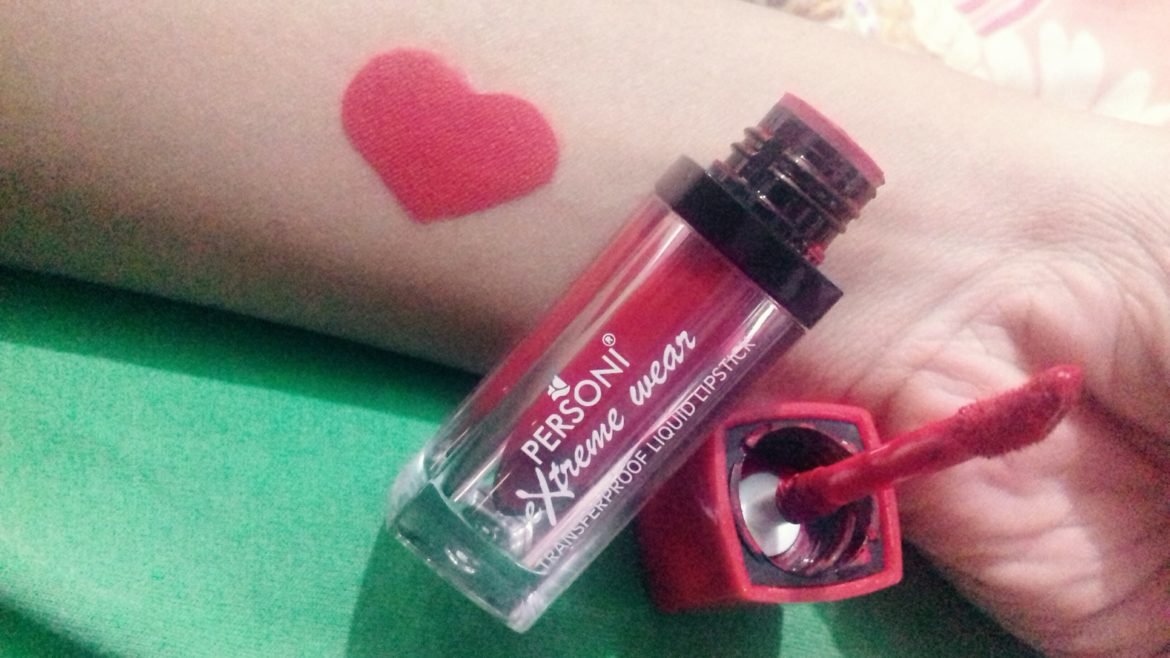 Personi extreme wear Transferproof liquid lipstick
is a matte liquid lipstick in the colour Red hot. Red is the colour that suits the Indian skin tone mostly. This liquid lipstick costs 100 rupees. I have bought it from local market. This is only available in red colour in there but you can find other shades too of your choice. This lipstick lasts in your lips for about 4 to 5 hours, it will start fading from inner side of your lips after that. After you apply it on your lips it will set immediately just in few seconds. It is a matte lipstick so moisture your lips very coatedly. The outer packaging is very trendy, it is a glass bottle so you can clearly see the colour from outside. The applying tool is also very good you can draw your lips from that too. It is travel friendly as it has sturdy lids and its small size can fit easily. However its claim about transferproof is not completely true, it will transfer a little bit. Being the matte lipstick it is good for oily skin ones but not for dry ones.
The ingredients are not mentioned in the back, so it is a bit  disappointing. Water can not remove it properly so you need makeup remover. However it will have a stained red mark, if not remove it properly. The colour is amazingly pigmented. Apart from these, comparing it with the price of the other products in the market, it is worth a trying product!
Lets look at the pros and cons quickly :
 Pros. 
● affordable ● packaging is attractive ● staying power is good enough ● travel friendly ● pigment is amazing
Cons.
● fades from inner lips ● extremely matte, needs proper moisture before ● ingredients are not mentioned ● difficulty in availability ● leaves  red stains if not remove properly Overall it is a good matte lipstick with amazing pigments and a huge price range. This season, you can glam up your look with this red colour in your lips, gorgeously!