"Varun Dhawan compared me with the Superstar Salman Khan" says Salman Ali
Thanks Salman for bringing out time from your busy schedule.
A hearty congratulations for winning Indian Idol 10 with over 2 crore votes.
1. You're a daredevil, who hails from a small village named Punhana in Mewat district of Haryana. You moved to Delhi to take part in the audition of Sa Re Ga Ma Pa LiL Champs, 2011.
How did you embarked on the journey to the life that you're living today?
Salman ~ Yes when I heard about the auditions from my brother who lives in Delhi, and when I got through the audition I decided to shift to delhi to pursue my dreams.
There are times in life when you have to take certain risks, you can't chase your dreams staying in your comfort zone.
2. Your singing genre includes Sufi, Rock and Pop. Have you ever tried any different genre than this? If yes, how was your experience?
Salman ~ I believe a singer should be versatile although my voice range & texture suits Sufi genre a lot but I enjoy singing all kind of songs in my live show around the world, even in my idol journey I sang various genre.
3. Your melodious voice won the hearts of every Indian and you became the first runner-up of Sa Re Ga Ma Pa LiL Champs.
Do you feel that you were the most deserving kid for the winner's trophy?
Salman ~ For me, Winning the hearts of the listeners/audience is more important than winning the trophy, though everyone wants to be a winner end of the day but I am very happy with the love people gave me during Sa Re Ga Ma Pa Lil Champs.
4. In 2018, you auditioned for Indian Idol 10 and got selected, judged by Neha Kakkar, Javed Ali and Vishal Dadlani.
Who is your favourite judge among them and why?
Salman ~ Everyone is a legend in their own way, so selecting one out of them wouldn't be possible for me, but I do admire Vishal Dadlani's work as a music director a lot, Neha Kakkar's romantic voice and Javed Ali's Sufi singing style.
5. During the Indian Idol show you must have created memorable moments with other participants. Any funny or memorable moment you would like to share with us?
Salman ~ We used to stay like a family, the most amazing thing was the support I received from everyone.
6. Salman, your mesmerising voice impressed many celebrity and judges specially Badsah, Varun Dhawan and Anu Malik. Share the best compliment you have ever been given.
Salman ~ Once Varun Dhawan Sir said, "We had one Salman in Acting and now we got one in Singing also" comparing with the superstar Salman Khan Sir is something I will never forget in my entire life.
7. In Dec 24 2018, you declared as the Indian Idol 10 winner. How was the feeling? What is your success mantra?
Salman ~ It was a dream come true, for me getting selected into the show itself was one of the biggest achievements of life. I would like to Thank the Almighty, my fans, well-wishers around the world for giving me so much love & blessings.
8. Now-a-days many actors singing in movies. What is your opinion regarding this?
Salman ~ Why not? Ofcourse actors should sing in movies making it more real, it's a struggle to get the right songs since our country has so much talent.
9. You have performed with famous music director Salim- Sulaiman on the T.V Show Jammin- Episode 1 in 2018.
How was your experience performing with this amazing duo?
Salman ~ Salim sir and Sulaiman sir are legends to work with and it was an honour to be a part of this project.
10. Besides Indian Idol, you have lent your voice for the theme song of the Indian television series Chandragupta Maurya, airing on Sony T.v.
How did you got this opportunity?
Salman ~ Thanks to my management team who is not only booking shows worldwide but also giving me many opportunity.
11. Now you're an inspiration to many. Who is your role model?
Salman ~ A.R Rahman is my role model and has always been, am a huge fan of his work.
12. For the movie Sui Dhaga, you have recorded a small segment of the promotional song 'Sab badhiya'. How did it go? Do you wish to record for more movies?
Salman ~ Thanks to my Management and It was a great experience. Yes definitely looking forward to a lot of playback coming my way.
13. Do you get recognised in the street?
Salman ~ Yes everywhere and that's the best feeling to know in REAL how much people love you.
14. Just like super gurus and choreographers you have become Captain of the new T.V show SuperStar Singer airing on Sony T.v.
What preparations do you make before choreographing new talents of your team?
Salman ~ As a captain my job is to find out talents from various towns and share my experiences and knowledge with SuperStarSinger Kids. Although when you see the show you would know that they are all big DHAMAKAS and better than all of us .
15. Is it really required to have pain in life for singing emotional songs or is it just comes within when you sign up the project?
Salman ~ When you feel the song, emotions come along. Experiences can help, but the feel is the most important part.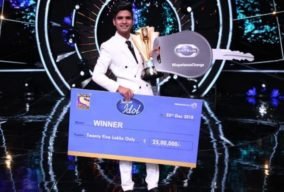 16. You had participated in Sa Re Ga Ma Pa and Indian Idol, do you feel that these platforms are fruitful for the talented singers or these are just entertainment based on TRP's?
Salman ~ These platforms are the best way to showcase talent our country has. They find and pick out the best talent from smallest towns who otherwise would never have exposure. Like if auditions didn't happen in Delhi, Salman Ali wouldn't be here giving you this interview.
17. What are your upcoming projects?
Salman ~ My management keep me always busy.. For next six months I'm busy in SSS Sony TV show and in between weekends I have 40 Live concerts lined up in USA, CANADA, UK, South Africa and few private shows. Apart from Live concerts across the world I have recorded few songs which will release soon.
18. Would you like to give any message to your fans and upcoming artists?
Salman ~ Don't stop running after your dreams, believe in yourself and work hard.
– Thank you sir for giving us your valuable time. We all love to hear you, keep singing. Wishing you success in all your future endeavors.
Journalist- Mamta Roy