"I am still running after success" – Sudeshna Roy
Sudeshna Roy is an actress and the filmmaker of movies such as Teen Yaari Kotha, Bapi Bari Jaa, Prem By Chance and Cross Connection. She alongwith Abhijit Guha has directed films and are known for their uniqueness. We got a chance to meet this wonderful lady and spend some time.
What was your motivation to be in this field?

I never thought I would be a film-maker. I wanted to be a doctor even though I loved acting and have acted in several plays in my school and later in my college too. Everything in my life has been very accidental. I was also passionate about whatever I did in my life. I had a spinal injury when I was in school but that did not stop me from securing good grades in my H.S. examination. After that I went into teaching. Around that time, there was a sudden boom in journalism. Women started taking it up as a full-fledged career. I started journalism with Aaj Kal, The Telegraph and then Sananda. In the meantime, I was offered a role in Tapan Sinha's "Aadmi aur Aurat" but I turned it down and was into journalism for around 10 years. In 1994, I took an interview of Prosenjit Chatterjee and Debasri Roy (a couple back then) for Zee Bangla which proved to be a turning point of my life. Then, I was appointed as the creative director for "Manabi", a women magazine in Bangla, and Abhijit (Guha) was the technical director. I left my job in Sananda and started a totally new career.
Did your last release, "Bitnoon", meet up to your expectations?

No, but I would say 'Ekla Cholo' which we did for Zee Bangla Cinema changed a lot of concepts. In fact, we always try to do projects that are trendsetters. "Teen Yaari Kotha" was the first movie that brought in new concepts even though it was not released when it should have. "Cross Connection" and "Jodi Love Dile Na Prane" are trendsetters in their own unique way.
With nIdeas you did 'Ekla Cholo' and then 'Jodi Bolo Hyan'. How was it working with them?

Prosenjit Chatterjee, the man behind nIdeas, has always been a part of our unique projects like "Bapi Bari Jaa" and "Teen Yaari Kotha" while Acropolis supported "Cross Connection". Our first movie, "Shudhu Tumi", in 2004 would not have been possible if Prosenjit Chatterjee had not agreed to act in it. Both for Abhijit and me, he has been a big influence who has helped us a lot.
We have seen Lagnajita Chakraborty as a singer. How was it working with Lagnajita, the actress?



She has done a very good job. She is very sweet and has that childish tone in her voice when she talks. 
You have acted in a number of daily soaps apart from being a director. How do you manage time?

Currently, I am working in only one serial, "Kojagori", which again is very unique. Nina Gangopadhyay, is doing a fabulous work. As far as directing is concerned, Abhijit and I divide our work as per our schedule.
What do you like to do apart from directing and acting?



I like to write. I like to work with my own stories. I work with somebody else's story only if I have already read and liked it. Otherwise I like to do my own stories.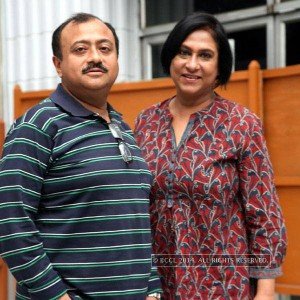 What is your success mantra?



I am still running after success. I have not achieved it yet. The day I start thinking that I have achieved success it will be the day when I will be finished and I would have nothing more to offer. So, I am still looking for the illusive thing called success.
Do you follow any ethics while working?

I am always passionate and honest about what I do. I also believe in luck. Even if you work hard, luck always has a role to play. "Teen Yaari Kotha" was a fabulous movie according to the viewers but maybe it would have been recognized as a path-breaker if it would have released when it should have. We now understand the greatness of the Ritwik Ghatak who showcased talking cars in his movie "Ajantrik", but his movies could never do good business. "Pather Panchali" was a success only after it got its recognition in Cannes. Nobody knows when and what will click in your favour. Cinema is an expensive art so you don't have scope for much experimentation.
How was your experience working with Abhigyan Mukherjee in "Chitra"?



Abhigyan is new, enthusiastic, passionate and has chosen a subject that interested me. It is a difficult subject for his first film. I would say it has been an expensive learning experience for him.
Tell us something about your character in "Chitra".



My character is a strong woman somewhat like me. She always supports the right thing whatever be the situation. In real life also I always try to support the right and go against the wrong.
Any message for upcoming directors?



You should know your job, have the right concept, understand production and always think practically. You should be committed to your work and execute it with a clear vision in your mind.
Lastly, we heard that you have a craving for sweets and cannot stop eating sweets inspite of being diabetic, is that true?



(Laughs) I take my medicines regularly but I cannot stop myself from eating sweets. I love sweets. I remember, my father used to bring a chocolate for me and my two siblings and we had to share the chocolate. I used to say that I would buy and eat a whole chocolate bar when I grow up and earn on my own!
Photo Courtesy : indiandiaspora.com & indiatimes.com


Content Writing : Deblina Roy 




Original Copyright © LaughaLaughi.com