10 Quirky Home Decor And Furnishing Ideas
Planning to refurbish your home? Want to make it colorful and yet have the rustic resplendence dancing around? Purse strings too tight and the budget doesn't allow for more expenses? I hear you loud and clear, and as a part-time homemaker myself (yes, men can be homemakers too, get over it), I hereby bring to you ten quirky ideas that cost less and doll the house up- inside out, more! Read on and do your homework, shop and don't splurge too much.
Source: http://www.mama.lt/Uploads/vazapaveikslas.jpg
A BIG centerpiece
Ever wondered how these florists get the luxe touch on a simple bouquet of flowers? To be honest, I didn't know the DIY trick until now- take a look at this infograph that shows it all. Ensure the big sponge ball is soaked with water to provide hydration to the flowers though!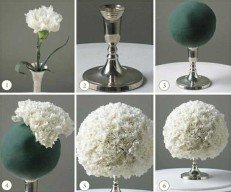 Source: http://www.ezyshine.com/wp-content/uploads/2014/10/diy-home-decor-ideas.jpg
What can an old garden tool do?
It can house and hold glasses! Yes, that is one way of upscaling the tool and making it useful once again.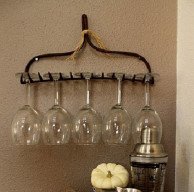 Source: http://connecticutlifestyles.com/wp-content/uploads/2014/02/wine-glass-holder-diy.jpg
Rubber tires to be reused
Bachelor pads can have more of these when their buddies come over for a drink or two, whilst watching a game or just hanging around. Here is how to make your cost-effective quirky seating arrangement.
Source: http://www.woohome.com/wp-content/uploads/2014/06/diy-home-decor-with-rope-3.jpg
Need a jewelry organiser?
Use an old wooden draw that you would not be using anymore; give it a fresh coat of paint, and install hooks in them. Use old wooden palettes to help compartmentalize the inside of the draws, and place hooks on the back so that it can be wall mounted.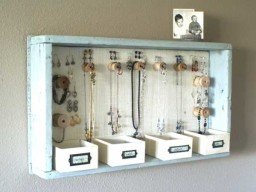 Source: http://phontis.com/wp-content/uploads/2016/03/Bedroom-Decorating-Ideas-Diy-Of-goodly-Diy-Home-Organizers-Jewelry-Organizer-Jpg-Luxury.jpg
Need a reminder on what to cook?
Remember the good old black slates we used back in the 90s, well some of you would! Anyways, place them on the wall with hooks for support, compartmentalize sections in bright colors, and keep your chalk handy.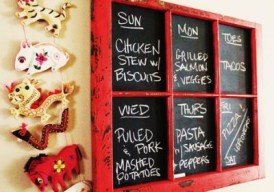 Source: https://s-media-cache-ak0.pinimg.com/736x/54/c7/24/54c724ee61d6e008dc5b1fac242ecb04.jpg
Quirky coffee tables
The next time you head to the beach, gather large shells and curios, because the coffee table needs it.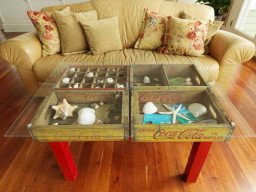 Source: https://authormelbynum.files.wordpress.com/2015/05/000000000000repurposed-furniture-ideas-before-and-after-with-nice-design.jpg
Help from nine yards
I can look at the Indian saree not worn by the women in my family but in good shine and shape, as home decor ideas too. Drape them as curtains, use them as cushion pillows or make the room radiant and vibrant with creative ideas!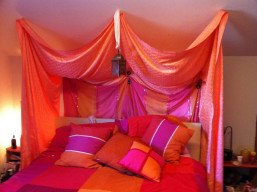 Source: http://www.interiordesignblogs.net/wp-content/uploads/2015/10/decoration-1.jpg
Rustic bathroom storage
Easy to maintain and clean, and you do not have to invest in costly cabinetry work; not when a few wicker baskets and a reclaimed ladder does the job well.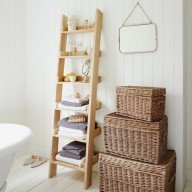 Source: http://www.architectureartdesigns.com/wp-content/uploads/2015/08/1450.jpg
Fairy lights for a cozy bedroom
You don't need more dim lights to up the ante on romance and cozy mushy love in the bedroom; not when you can have two sets of fairy lights for company each night.
Source: http://cozyroom.co/wp-content/uploads/2016/03/DIY-home-decor-bedroom-lights-Pinterest.jpg
An old tree trunk for a mini garden
We should have indoor plants, and one's that won't demand too much attention. Here's what an old tree trunk can help us with!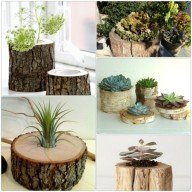 Source: http://www.freshdesignpedia.com/wp-content/uploads/diy-projects-tree-trunk-decoration-in-the-form-of-flower-pots/tree-trunk-decode-diy-projects-planters-ideas.jpg
Have ideas of your own? Do write in and I would love to share them with the world crediting you to that.
Toodles!