Blue Mug – Coffee and Thoughts
Numerous cafes are popping up in Kolkata and are becoming the most trending food joints for college goers. 'Blue Mug- Coffee and Thoughts' is one of them. Located in Jodhpur Park, this small cafe is an amazing place to spend some quality time with friends and family.

Ambiance :
The cafe though small, has it's own charm. The theme of blue makes the ambiance calm and peaceful. The first thing that will catch your attention is the quirky decor of the place. It has some kettle lamps hanging from the ceiling along with glass bottles filled with blue fairy lights. At one corner there is a keyboard and a guitar and beside it is a bookshelf for the bookworms. Decked up with sofas and chairs, it provides a cozy seating arrangement.
The cafe also provides a well decorated outdoor seating arrangement surrounded by thicket of plants. Within this greenery is a swing that'll take you to your childhood days.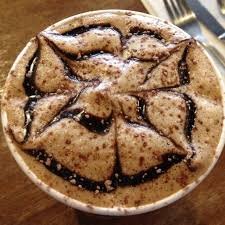 Food :
The cafe serves a wide variety of Italian and Continental dishes having an Indian touch. Both the quality and quantity of food is satisfying and the dishes are available at a pocket friendly price.
As the name suggests ' Blue Mug-Coffee and Thoughts' , coffee is a big hit of this place. Their Cappuccino is one of the recommended beverages and comes with an option of single shot and double shots.
This place is also famous for their thick and creamy shakes. There is a wide variety of flavours to choose from and are served with some pretty garnishes.
If you are opting for a filling meal then you must try their chicken steak. It is served with sautèed vegetables ( broccoli, carrot, beans and peas), herbed rice, french fries and a flavourful gravy.
The cafe also serves some mouth watering sizzlers. The sizzlers come with a bed of sautèed vegetables,flavoured sauce and french fries.
The most recommended dishes of this place are –
Chicken club sandwich – Rs 150
Apricot chicken wings – Rs 170
Chicken Steak – Rs 280
Grilled fish sizzler- Rs 300
Bbq chicken pizza (8″) – Rs 170
Kit Kat Shake – Rs 200
Virgin Mojito – Rs 150
Service :
With well behaved staffs and good management, the cafe provides generous service. Some additional facilities of this place are –
Smoking area
Outdoor seating
Take away
Air conditioned
Cards accepted
Opening hours – 11:00am to 10:00pm
What are you waiting for? Come and drop in?
Report by Payal Roy