12 Best Road Trips in India That You Must Take Once in Your Lifetime
We skim through the annals of our massive country and bring to you the twelve best road trips in India that you should take at least once in your lifetime.
1. Manali to Leh Highway: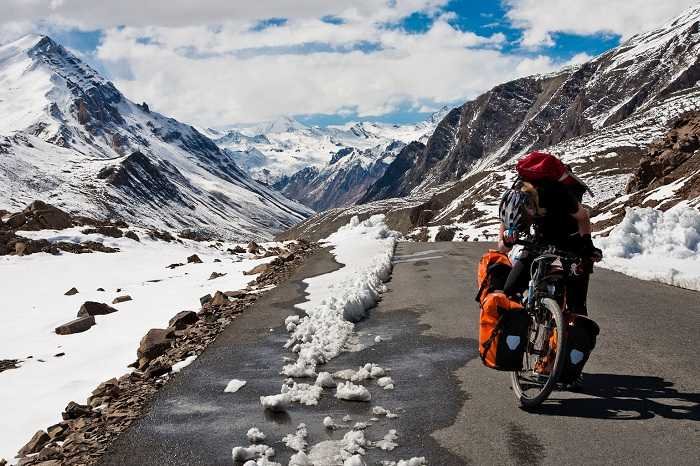 The beauty of road trip from Manali to Leh cannot be captured in words. Remember Kareena Kapoor dancing to "Yeh Ishq Hai" from Jab We Met? Wouldn't it be fun to cruise along that road in all its snowy glory on an open jeep or a Bullet? Ah! So Pretty!
Road Trip Condition: It spans a length of 479 km with a mean altitude in between 3 to 4 km above sea level. The road is open for about 5 months a year mostly during summers and mid-October. The journey takes about 2 days with one stopover for rest and acclimatization.
2. Mumbai to Pune Expressway: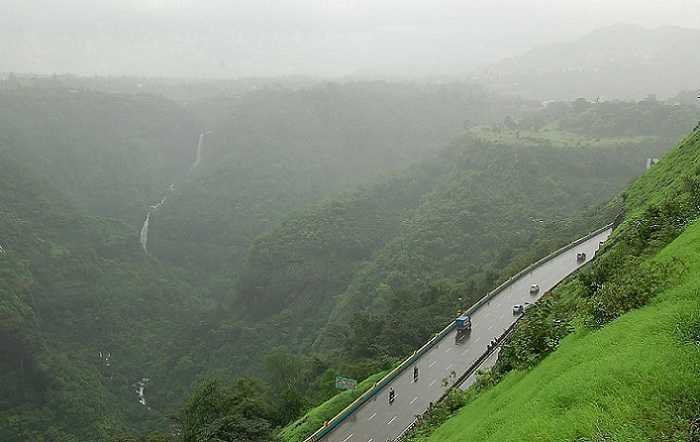 An easy weekend getaway from Pune/Mumbai, a road trip to Lonavala is something that almost all local residents will swear by. Dont forget to savor 'chikki' in Lonavala. The picturesque surroundings and lush green foliage are great at calming those jittery nerves. So if you are in the region and planning to take a road trip look no further. Put the medal on the pedal, and get cracking!
Road Trip Condition: The expressway is 93 km long and considered one of the best road trips in India. Two-wheelers are allowed on old Mumbai-Pune Highway (which is in really good shape) while cabs and buses ply on the Mumbai-Pune expressway. Sunny Da Dhaba and The Kinara Village Dhaba are good eating options on the Pune-Lonavala stretch.
3. Visakhapatnam to Araku Valley:

The graceful marriage of the Bay of Bengal and the Eastern Ghats in Visakhapatnam are a sight to behold. Any first time visitor to the city is taken away by the pristine beauty of this union in the city. When the same traveller takes a trip to Araku, he's completely mystified by the beauty of the road. The curly roads, the gentle elevation and the sweet serenity of the hills makes it an amazing road trip in south India and will etch a permanent place in your heart for an eternity.
Road Trip Condition: The road spans about 116 km. There are interesting places like Borra caves and Tatipudi Reservoir on the way. The best time to visit the region is between October and March.
4. Shimla to Manali via Mandi: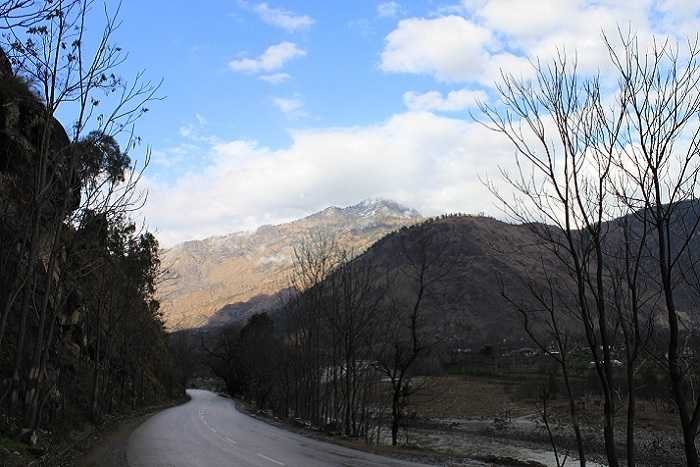 Clichés, when it comes to choosing a travel destination, should never be steered clear of! The Shimla-Manali road trip, with the River Beas trudging alongside, is a beautiful road trip to relax and unwind in India. Take a break from and play in the ice-cold water of the river. Nothing says Himachal vacation like playing in the water during the ride between Shimla and Manali!
Road Trip Condition: This 250 km stretch requires a little longer than usual due to hilly terrain. All the more reason to be one of the best road trips in India.
5. Chennai to Pondicherry along the East Coast Road: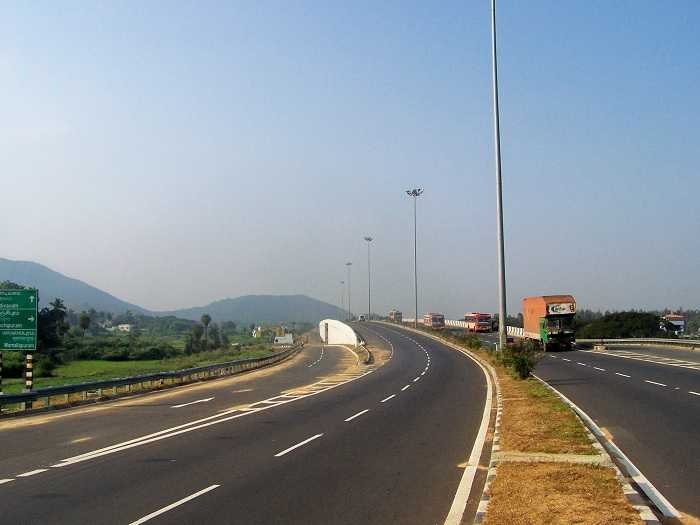 This is one of the most beautiful roads for travelling on a cruiser motorbike. Chetan Bhagat wrote about it, and rightfully so. The Sea on one side of the road is a sight to behold as the day grows. The changing reflections of the Sun on the water as the day advances makes it most beautiful road around Chennai and probably India will leave you feeling thoroughly satisfied. Be prepared for a lot of Photography sessions while on the road!
Road Trip Condition: This stretch of 160 km takes about 3 hours. This route passes through Mahabalipuram (UNESCO World Heritage Site), Kalpakkam (nuclear facility), Idaikkazhinadu (Alamparai Fort aka Alambara Fort), Mudaliarkuppam (with a cool boat house and water sport facility), Marakkanam (famous for large salt pans) etc.
6. Guwahati to Tawang
Two absolute essentials from Northeast and a trip just like its two ends- challenging, yet spread across an extremely beautiful terrain. A few stops in between, and you should be able to pull it off more conveniently.
Road Trip Information : The distance is about 520 km and should take you about 10 hours plus your stops.
7. Puri to Konark on the NH-203: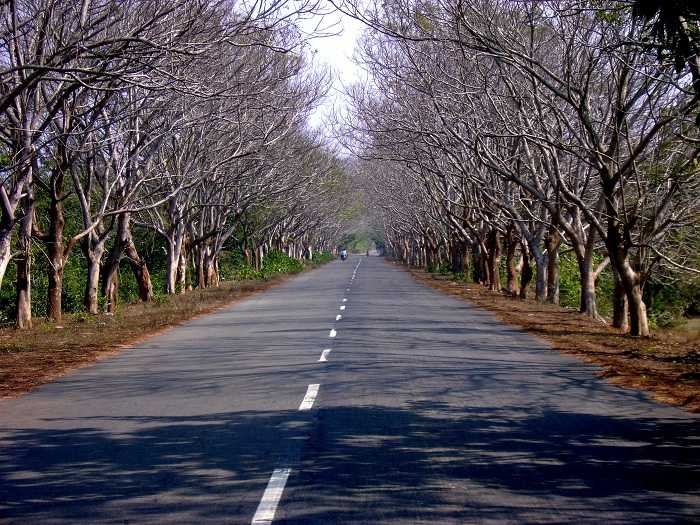 While scenic roads in Orissa would very well put most of the Eastern states of India to shame, the Puri-Konark highway is one of those beautiful roads to do Photography that when undertaken, will force you to drain the battery on your camera. The canopy formed by the trees on either side of the road, the soft misty breeze and the obvious idyllic beauty will leave you mesmerized, now and forever!
Road Trip Condition: This short stretch of 36 km can be covered in about an hour and makes for a memorable road trip.
8. Gangtok to Lake Tsomgo and Nathu-La Pass:

The North-East, largely unexplored is home to some of the best destinations for road travel in India. This is one of those road trips of North-East that you should undertake at once without thinking much. The hilly terrain might make it a challenging ride, but the beauty of the road lies in the uncertainty of the terrain. The awesome sight along the roads on mountain ranges will totally make up for everything else! Take a road trip in winters to Lake Tsomgo (also known as Changu Lake) from Gangtok and know happiness like never before!
Road Trip Guide: This stretch is about 55 km long, with the Lake Tsomgo falling on the route at around 39 km from Gangtok. It leaves you with an unmatched road trip experience.
9. Bangalore to Bandipur Forest:

One cannot put forward a list of awesome road trips without accounting for one that is taken along a forest. The Bandipur Forest route to Bangalore is one of the most beautiful trips through forests in India, that you'll ever take. One can take the same road to Ooty from Mysore passing though Bandipur National Park. Have a road trip with friends in a car with a sunroof, singing all the way. You might spot deer nonchalantly crossing the road. There's no better manner of paying your respects to this charming highway!
Road Trip Guide: Taking around 5 hours, this stretch is 235 km long. There are various places for stopover and eating options along the route including McDonalds and Cafe Coffee Day.
10. Shimla to Manali via Kinnaur and Spiti :
A more recommended route to Shimla than the Mandi one above, this is the road trip you should take instead if you are looking forward to the road trip being the highlight of your trip. Cover Kalpa, Sangla valley and even higher bits of the valley like Nako, Chango, Ropa if you wish
11. Pamban Bridge (Rameshwaram):
Ever pictured driving on a road with vast expanses of water everywhere you look? Precisely why Pamban made it to our list! Sometimes, the infinite ocean under your feet and the moist breeze in your hair is all the therapy you need. Makes for a memorable road trip.
Road Trip Guide: The stretch is 13.5 km long and can be easily covered in about 20 minutes.
12. Chennai to Munnar
If you've got a weekend and Chennai's weather just doesn't cut it, Munnar is your escape. Even better, is that it can come with a though longish but refreshing road trip that might just be what you need to kick start your stay at Munnar.
Road Trip Information : The 600 km between you and your holiday would take about 10 hours plus the stops you make.
Source: Holidify