5 of the Most Hilarious Bollywood Dance Sequences
Over the years we have been witnessing countless dance sequences from the world of Bollywood which you cannot just sit and watch. Dance sequences that makes you laugh and groove at the same time. These dance sequences cover all the alien steps an actor could ever dream of. You do not need to be a professional dancer to carry out these steps. One just needs to listen to the music and let his body do the rest. So here is our top 5 picks out of all those that have been ever created.
DHINKA CHIKA – READY
Now this one is not at all a surprise. This Mika Singh and Amrita Kak track was a smash hit within minutes after it was released. The steps are tailor made for Salman Khan and he has performed the same with utmost ease and swag. Chin up sideways, hands in the pocket, stand still and the right and left twisting of the wrists within the pocket constructs an eyegasmic sequence for the masses to laugh at. The icing on the cake here is that the steps very nicely matches with the lyrics of the song. All these factors keeps you glued to your television sets whenever this track is played and thus features at number 5 in our list.
https://www.youtube.com/watch?v=p6D8u6lEDjQ
SARKAI LO KHATIYA – RAJA BABU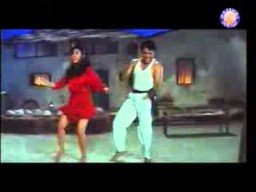 You cannot keep Govinda out of a list of hilarious dance sequences. Can you? The Chhote Miyan of Bollywood has a bag full of chartbusters bu this one makes it to the list without a shadow of a doubt. In 'Sarkai Lo Khatiya' Govinda and Karishma does it all. From jumping over each other to jumping into a 'choubaccha'. And who can forget the signature moves on the khatiya?
https://www.youtube.com/watch?v=Be_It32jfOQ
CHURA KE DIL MERA – MAIN KHILADI TU ANARI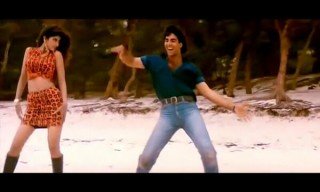 At number 3 it is Kumar Sanu and Alka Yagnik's one of the most famous track featuring Akshay Kumar and Shilpa Shetty. The song is sung nicely assisted by some "paisa vasool" dance steps which surely win your heart. Akshay typically dressed in an unbuttoned denim and Shilpa with her perfect figure does justice to the funny yet mindblowing steps. This is bound to "STEAL YOUR HEART".
https://www.youtube.com/watch?v=-p1aKPmc7TQ
BECHAINIYA BETAABIYAN – GUPT
If you ever wonder how to dance flawlessly with both your feet glued to the ground, this one is your song. And guess what? Bobby Deol does the rest. That shake of the head with his feat stuck to the base makes you realize how easy dancing is. Haters will fall in love with him after watching this. Go for it without a second thought.
https://www.youtube.com/watch?v=iBz1jbaqv6I
KRISHNAM AYYAR – AGNEEPATH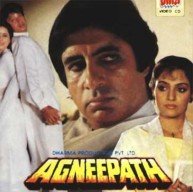 If there is any song that could top the list it is 'Krishnam Ayyar Yumyay'. Yes you heard the name right. This one from Agneepath is a sure shot winner all the way as the lyrics are as funny as the steps. It is complete dance tutorial for all the amateurs as well as professionals(something they are yet to learn). In this old version of 'Lungi Dance' Mithun Chakraborty teaches you 'Disco Naariyal' and clearly proves why he is called the 'Disco Dancer' of Bollywood. After the song ends you are sure to learn some 'DISCO NOTUN NOTUN'.
https://www.youtube.com/watch?v=62AEXc0ZMuw