Pink is an Indian courtroom drama film directed by Aniruddha Roy Chowdhury.
Minal Arora (Taapsee Pannu), Falak Ali (Kirti Kulhari) and Andrea (Andrea Tariang) are staying together as tenants in Delhi. Rajveer (Angad Bedi) is known to Minal through a common friend.
Rajveer invites Minal and her friends for a dinner party to a resort in Surajkund, Faridabad district, Haryana. Rajveer and his friends get drunk, and so do Minal and her friends. Rajveer and his friends separate the trio and tries to molest them. Minal picks up a bottle and smashes it on Rajveer's head leaving him bleeding.
To cover the case, Rajveer and his friends threaten the girls over phone. Mina is forced to lodge FIR against them. However, the lady police officer lodges a false FIR case against the girls using Rajveer's powerful contacts. Minal is then charged for 'Attempt to murder' and for soliciting, where she could face imprisonment for more than 10 years, if convicted.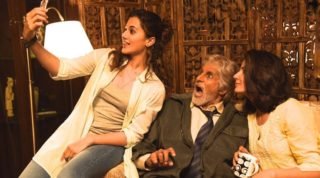 Deepak Sehgall (Amitabh Bachchan) after consulting with his ailing wife (Mamata Shankar) fights the trio's case against the obnoxious and influential boys.
The shooting of the film began in New Delhi on International Women's Day, 2016. The looks of Amitabh Bachchan in the movie was created by Shoojit Sircar however the idea of wearing the mask was suggested by Amitabh Bachchan since Delhi is very polluted.
During the shoot, Amitabh Bachchan wandered the streets of New Delhi while wearing a costume in which public cannot recognize him. Taapsee suffered from viral infection during the court scenes and wanted to dub later, however Shoojit felt that her illness would add more authenticity to the scenes.
The film shows you the reality where girls are either assaulted, molested or raped and then the entire case is covered, thanks to the politicians and their sources. Amitabh Bachchan has played a vital role in the film, proving that someone needs to stand up and point out what is right and what is wrong. It is true that we need to educate our boys and not our girls.
"The movie has already started a movement. We can't wait for others to stand up and protest against the evil deeds. Otherwise, there would be a world with no humans" ~ Roy.
The film deserves 4.5 out of 5 stars.
Information Source : Wikipedia
Image Source : Google and Team Pink