Interview with Rajarshi "Cocco" Mitter
Who was your inspiration in the field of music?
Taking only one name would be unfair. I started my musical journey around the year 2006 -2007. That time there were few famous Bengali bands, if I have to take names I'll mention Cactus and other bands as well, they have been a real inspiration to me. That was just the start. Then I started listening to English rock bands. Among them Guns and Roses, Aerosmith, Pink Floyd… their songs really kept me going. So, basically it is not possible for me to name a few.
When did you start playing guitar?
I was basically a keyboard player. When I was 3-4 years old and I could barely talk properly, I started playing keyboard Since then.  I started playing guitar since 2006 when I was just 16. Shifting to guitar from keyboard was a co-incidence back then, now it has been 10 years and I still love playing it more than anything else.
Tell us about your musical journey when you were in Siliguri?
I stayed in Siliguri for a very short time, There I formed a band along with my friends. That was my 1st band experience. That was very amateur, I think this is quite natural Because we can't expect connection and collectivism between the band members at the 1st time. But yes, from that experience I learned how we can resolve things in our band and get going.
Tell us about your musical journey after settling down in Kolkata?
I shifted to Kolkata after finishing my 12th grade in Siliguri. Main reason of shifting here was higher studies. But my interest and love towards musical instruments Directed me towards meeting people of same mentality and I started working with them. I got associated with a very famous band of Kolkata named "Sixthveda" that was the turning point in my career. Things went huge after that.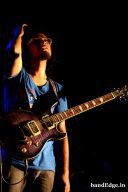 How did you come across Sidhu da?
I came across Sidhu da when I was a part of "Sixthveda". After that we have shared so many funny moments and jokes as well as being part of some big projects. I did some gigs with him as well.
How did you get the chance to act in the music video of "Singhorashi Rakkhoshgon"?
"Singhorashi Rakkhoshgon" is a famous song of the movie "Jatiswar". Sidhu and Saqi worked for that song together. They wanted someone to act there, who had a very good personality and can represent as a band person on stage. So, that's where I came in, I got the offer and that was a very big opportunity for me really!
Tell us about your experience during the music arrangement of Hrishikesh Mondal's film "Achena Bondhutto"?
Music arrangement of "Achena Bondhutto" was a new and different experience, as in I worked as a music arranger for the 1st time. Back then I was not as much accustomed with music mixing and studio works, as I am now. So I was a bit tensed as many reputed singers like Anupam Roy, Sidhu Da, Surajit Da, Upal Da, Chandrani di, Gabu Da were involved in that project. All of them had been so co-operative and nice to me. Working in that project was a great experience.
Tell us about your journey from Tollywood to Bollywood?
The movie I arranged music for was "Guddu ki gun". I can't say that it had been a smooth journey because I had to struggle a lot to get that work. Though the movie did not click in the box office, but getting chance into Hindi songs from Bengali rock is really huge. Naturally I was bit tensed initially, but it went on smooth after that and I did my work nicely.
What projects you have done by now, on your own?
I was a guitarist for "Bhaaratvarsh" band. Recently, I left "Bharatvarsh" and joined "Sixthveda" again. Besides that, I am taking care of studio works and music arrangement as well. Apart from this I am working on a solo setup as well, which has been incepted with a video featuring some of my students. Its release is due this month.
How much support did you get from your family?
I had been born and brought up in a middle class family. There were so many problems, but still my mother never stopped supporting me. It was so kind of her that she never asked me to drop my passion and start studying to be a doctor or an engineer. I can never thank her enough for this.
Where do you see yourself in next 5-10 years?
There are so many plans which I have in my mind for next 5 -10 years. I want to be an established music teacher, want to own a studio, want to arrange and play music for more and more movies.
Did you ever write a song for someone special?
Actually I deal with a lot of instruments like guitar, drum, and keyboard. But I can't write a song. And I used to stay busy with instruments and music arrangements so never tried as well.
How are you in front of your acquaintances?
My family members and friends love me a lot. When I teach guitar I try to stay as friendly as possible with my students. My students respect me and love me.