One year after the earthquake: Nepal
Children and young people remain among the most vulnerable, one year after Nepal's massive earthquake. A quarter of those killed — some 2,000 — were under 10 years old.
And for those who survived, life is still a challenge. Hundreds of thousands of them are homeless.
Many of these kids have spent months in tent cities, under sheets of corrugated metal, or sleeping out in the open.
For 19-year-old Bagwar Gdadji and her daughter, home is a 'temporary' tent in a dusty lot in Kathmandu. Her baby was born just hours before the April 25, 2015 earthquake destroyed their house.
She and her husband can't afford to re-build, or even rent anywhere else, so they've been here for a year now.
Most of those who live in this camp are young people and children.
In a nearby tent, Mondu Sunam struggles to take care of her disabled grandson, seven-year-old Prince. He needs medical attention and physiotherapy, neither of which are available in the camp.
Water is available in the camp, since it is in the middle of the capital, Kathmandu.
But for many children in the countryside, getting water means a two or three hour walk to the nearest working well. Many village wells have dried up or were contaminated after the earthquake.
The search for safe drinking water remains a constant.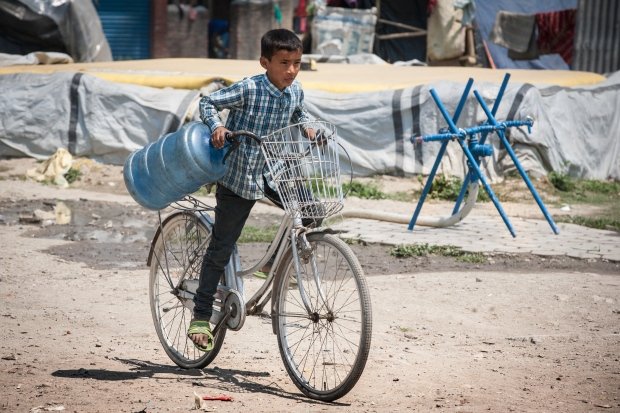 Hundreds of children lost one or both parents in the earthquake, and many kids still live on the streets. Or roam the country however they can.
Girls are especially vulnerable in Nepal.
Even before the earthquake, child marriage was a big problem here. Since last April, it has become more common as some parents seek a husband to support the daughters they can't.
In the hard-hit district of Sindhupalchowk, aid group Plan International runs a program for girls and young women, to warn them of the dangers of sexual abuse, forced marriages and human trafficking.
In the past year, the risk of human trafficking has been much higher as children are taken from their home villages to work in virtual slavery in big cities or abroad.
According to UNICEF, more than a thousand children have been stopped at police checkpoints around Nepal, heading for an uncertain future, under the control of a stranger.
Sexual assault is also a rising threat in the upheaval after the quake. A 17-year-old woman who wants to be called 'Grisma' was raped shortly after the  earthquake by an older man from a nearby village.
She fidgets nervously as she tells her story. Grisma is now pregnant and under social pressure to marry her rapist.
Child labour in the brickworks
Other dangers for Nepal's youth are in the country's brickworks.
Officially, child labour is illegal here, but I find many children digging, molding bricks and stacking them, especially now that demand for building materials is expected to grow.
Viswas is 15 years old. He says he works 11 hours a day, six days a week shoveling mud on the outskirts of Kathmandu for about 40 cents an hour. The worker next to him is 13 years old.
Workers nearby look much younger, though no one will confirm their exact age. The pressure is great on families who have lost everything in the earthquake to make money however possible.
Even by putting their youngest to work.
At 14, Grakar Khadri spends his days loading and unloading bricks.
Others work the streets of Kathmandu, selling cotton candy amid the rubble.
Children rebuild their lives, as Nepal tries to rebuild itself.
All photos by Saša Petricic.
Source : CBC News