Whenever we go for a picnic place, most of the places we find are very crowded. People just throw the plastic wrappers or the left over things of their picnic here and there which makes the place awful and dirty for the other tourists. It really causes a big sense of inconvenience. So let's go to a place where you will not find such fuss. Omega Resorts is only 45 km away from Kolkata. This is one of the best place for having picnic or a get together.
Omega Resorts
The place is set on a lush property surrounded by many trees and farmland. They have two children park which consists of slides, swings, seesaw for children. Parents don't need to run after their children while they are playing because the place is absolutely safe and the authority consists of many people who are constantly on duty. In the middle of the Omega Resorts, there is an amazing pond. There, one can find beautiful swans swimming around and the best thing is they also have boating facility. It combines tremendous natural beauty and outdoor fun with astounding indoor luxury.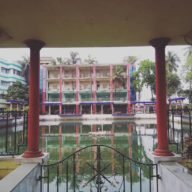 Facilities
Conference rooms are available. It's a wonderful place for picnics and a get together. A short amble along the gardened pathway leads you to the family restaurant. The restaurant provides Indian, Chinese and Tandoor dishes as well as mouthwatering deserts. Must try items are Pan-fried Momo, Chicken Pokora, Chicken Bharta and Butter Nun. There is wonderful bar in a separate building where drinks, music and rings of smoke blend beautifully with each other making the aura of the bar mesmerizing.
Pre – Wedding shoot in Omega Resorts
Omega Resorts provides the perfect backdrop for the most memorable day of your life. Every candid smile, stolen glance and sweet embrace makes every photo memorable. With these photographic souvenirs you can continue to celebrate those moments for years to come. Therefore, for making those wonderful memories go to this link.
https://www.facebook.com/SanjoymahajanPhotography/
Rooms
Rooms are available at affordable rates. The types of rooms available according to customer choices are
Non Ac rooms, Ac rooms and Superior Deluxe Ac rooms
*No charge for children upto 2 years
Check-in time: 11.00 pm
Check-out time: 11.00 am
Address
Omega Resorts PVT. LTD.
Vill : Chandipur (NH-6)
P.O.: Birshibpur, P.S. – Uluberia, Howrah, West Bengal – 711316
Email : ptathowrah@gmail.com
Phone : 9143425626/8648037659