Leh-Ladakh is a wonderful place one wish to visit at least once in life for it's wonderful scenic beauty. The best time to visit Ladakh is in Summer (April – June) when the climate here is pleasant, with the snow from winter all thawed. I went on October,2015 and we took flight from Delhi to Leh. The airport is very small but the moment I stepped out from flight, I had black out due to low oxygen. So, it is highly advisable, don't go there with any kinds of breathing problem.
The top places to visit in Leh – Ladakh tour are:
Pangong Lake
The temperature of Pangong Lake ranges from -5°C to 10°C.  it freezes completely during winters in spite of its salinity. the lake does not remain blue throughout the year or even the day, rather it changes its color from azure to light blue to green and even grey too.
From Leh, start early so that you can enjoy the sunrise during your drive to Pangong lake. One may also go about exploring the rest of the Changtang Wildlife Sanctuary. It is advised to carry more and sufficient warm clothes to withstand the extreme cold weather. You would be required to put on jacket after jacket.
Jab Taak Hai Jaan shooting spot near Pangong lake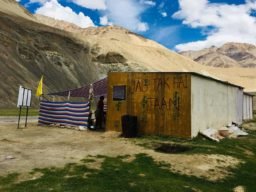 Magnetic Hill
Magnet Hill is a "Cyclops hill" located near Leh in Ladakh, India. The layout of the area and surrounding slopes create the appearance of a hill. The hill road is actually a downhill road. Objects and cars on the hill road may appear to roll uphill in defiance of gravity when they are, in fact, rolling downhill.
A gravity or magnetic hill is a place where a slight downhill slope appears to be an uphill slope due to the layout of the surrounding land, creating the optical illusion that water flows uphill or a car left out of gear will roll uphill, among others.
Leh Palace
This royal palace was the tallest buildings of its time. It gives a panoramic view of the entire town of Leh, as well as of the Stok Kangri and Zanskar mountains of the mighty Himalayan ranges thereby giving the place a strategic position. It is open from 7.00 A.M – 4.00 PM
Zanskar Valley
Most adventurous treks are done on the frozen lake for a life-changing experience. Consult your doctor before visiting Zanskar Valley. The season to travel Zanksra Valley is only between June  to September/October.
Tso moriri
It's a beautiful lake with panoramic view of mountains. Located at an altitude of 4522 meters above sea level. It is not that famous like Pangong Lake so the tourists are pretty less here. Therefore the beauty of this lake is intact. You could even climb a few 5000 meters peaks near the lake just for the adreline.
Phugtal Monastery
It is one of the only Buddhist monasteries in Ladakh that can still be reached only by foot. It is open from morning 6.00 AM  to evening 4.00 PM.
Khardungla
It is an important gateway to the Nubra and Shyok Valley. Journey from Leh to Khardungla was a painful 3 hours drive up on a winding road, interrupted by minor landslides and avalanches. Travellers often stop to have their photo taken along with the signboard that proclaims khardungla Pass to be the highest motorable pass in the world.
Nubra Valley
Nubra is a high altitude cold desert with rare precipitation and scant vegetation. This is an ideal place to fit into the acclimatization schedule of your Ladakh trip once you reach Leh because it is at a lower altitude than Leh at an average altitude of 10,000 feet or 3048 metres. Best time to visit are in the moths of January to March, Nubra Valley remins shut down in cold snow conditions.Only a few options are available to stay and open to welcome guests.
Stok Palace
The place is located around 15 kms away from the main city of Leh. The palace has been turned into a heritage hotel and has 6guest rooms and a café. The museum rooms in the palace showcase  family treasures. The best time to visit Stok Palace  is during the Stok Gruru Tsechu, when onecan witness the interesting Cham Masked Dance. Apart from it, the palace can be visited anytime between June and September.
To know about best cafes, good Tibetan food and shopping places, check out:
https://www.youtube.com/watch?v=IvrsOaqDQrY