"SRK-KAJOL duo is set best in Rohit Shetty's best film till date-DILWALE will surely steal your DIL"
Rating-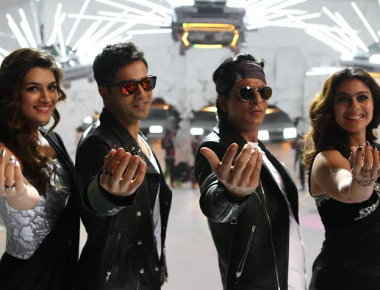 Much awaited Dilwale released all over today with maximum houseful reports from the multiplexes and any single screens.The romantic,musical,action,comedy genre is apt for the film and from the man Rohit Shetty who had successfully delivered the Golmaal Series,Bol Bachchan, Singham Series and also the super hit film of his career Chennai Express with Shah Rukh Khan but however this edition of his creativity is bound to make it his career best.
The story deals with the funky VEER (Varun Dhawan)  who falls in love with ISHITA (Kriti Shanon),who is the sister of MEERA (Kajol) settled in Goa for a Resturant Business . VEER is the pampered brother of RAJ (SRK),who is also known as KALI with a dark past from which he is hiding himself facing the pact that "Hum sareef kya hue…Poori duniya hi badmash ho gayi..".The Bulgaria flashbacks tell us the romantic past of  MEERA and KALI both being the descendant of two rival gangsters DEV MALLIK  (Kabir Bedi) and RANDHIR BAKSHI (Vinod Khanna) respectively. Story takes a massive twist after both the rivals end up killing each other and KALI being shot by MEERA for assuming him guilty of her father's death.
The predictable plot was balanced with romantic scores of Pritam embedded with some awesome choreography and glittering fluorescent hued cinematography which will surely pull you into the beauty of the locations. Humorous dialogues of OSCAR BHAI (Sanjay Mishra) and KING (Boman Irani) will make you burst into laughter besides the illogical overacting by the so called legend of comedy Johnny Lever. Kriti Shanon proved herself every time she was on the screen with her sweet appearance and I assure boys can't blink their eyelids seeing her. Varun Dhawan was good with his funky mischievous character and there wasn't anything new in his acting. Talking about the legendary pair Kajol and SRK both were more than expectations to deliver their charismatic acting with their immortal chemistry. With each and every appearance of the duo they demand "Ceetiis and taliyas" which a true fan can't restrict themselves from doing so.This movie is far more better than SRK's past Happy New Year & Chennai Express.
Songs like "Gerua" and "Janam Janam" are already a chartbuster and the poppy number "Tukur Tukur" will force you to sit and dance to the beat of it even after the movie has finished and the song is with the end credits. Shout out loud also for the last dialogue of the film that is from DDLJ …. here SRK speaks it out to Kajol saying… "Bade bade deshon mein aaisi choti choti baatein … hoti rehti hai"!!
Rating this 3.5 stars out of 5 am personally telling you all can go and have some entertaining hours amidst of the boring schedule this winter and surely you all will enjoy this and if your are a fan of any of the main leads then I can't stop you…Please go and watch Dilwale for it is going to setal your DIL again….as SRK-Kajol duo is back!
Content writer : Pratyush Mondal
Photo Courtesy :  Google


Original Copyright © 2014-2015 LaughaLaughi.com