The cheering and an enthusiastic audience are one of the two common views during any sport in India. Indians enjoy watching sport be it in the stadium or on television. According to the reports of BARC 93% of Indians love to watch online cricket.
It is no wonder that in a busy schedule it doesn't always possible to go and see a match physically. So for today's youth watching sport through mobile is much more convenient. And if one gets the opportunity to take part in his favourite sport then the enjoyment gets doubled. This opportunity of moving one step closer to the favourite sport especially of cricket has been brought by Dream11 app.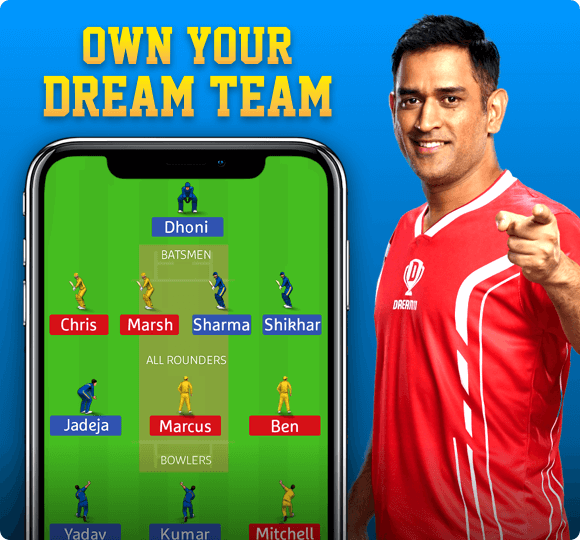 Dream11 app is a fantasy-sport platform that conducts online cricket. It was founded in 2008 by Harsh Jain and Bhavit Sheth. With 5+ crore downloads, 6+ crore users and 4.3 app rating, it has proved to be one of the best virtual sports platforms. Apart from cricket, they also conduct other sports as well as hockey, football, kabaddi and basketball. With continuous growth and popularity, it has become the first Indian gaming company to enter the "unicorn club" in April 2019.
There are many apps which claim to be authentic but only a few cross the high expectations. Dream11 is one of them. It connects users with online cricket and other games. It also helps the users to guide them for a better and experience. Also, users can use real cash whenever they want. They can withdraw the cash or can transfer that money into their bank accounts directly. Also, there is a bonus point system in which one can earn an extra point which can be used in the game later.
Dream11 offers its users smooth and simple yet thrilling gaming experience. It is an online cricket game mainly. One needs to create a virtual team of real-life players and earns points based on their performance in real matches. A user with maximum points wins the highest score and retains the first position. They offer free as well as paid contests. One has to invest a certain amount of money to play and can earn real cash.
In the world of online cricket and virtual gaming, Dream11 is one of the highest-rated apps. It ensures efficiency and excellency to the highest degree. Cricket is the most-watched sports of all times among Indians. Cricket has built an emotional bridge with these people. Dream11 is an authorized app of online cricket that brings the opportunity for Indians to feel more connected and passionate about cricket even in their busy schedule.
The brand ambassador of this app is Mahendra Singh Dhoni, the former Indian captain. He assures the users that Dream11 is not only a mere app but a bridge between cricket lovers and players.
Unlike any other gaming app, this one promises to secure the safety of users. It also strictly maintains that only adults are playing this game. This app establishes a real connection among users and players which will increase people's engagement with sports.   In the market of online cricket, Dream11 has proved to be the pioneer among others.