After the Basus, the Sharma is here. Charvi Saraf orf Shivani Sharma of "Kasautii Zindagii Kay" talks about Kasautii and playing a sister and much more in a chat with LaughaLaughi.
• Ma'am first of all a big congratulations KZK is consistently toping the TRP chart. How you feel being a part of this iconic mega series?
Charvi ~ Thanks for this! I feel immensely grateful being a part of this. We all have grown up watching it and it brings back the nostalgia. Have always loved the beautification of the romance portrayed. I feel proud to be a part of this known and iconic project.
• Previously also you have worked with Ekta Kapoor. How much difference is there working with her and other producers?
Charvi~ Balaji is the apex and the premium production in TV. Ekta Kapoor and her team has set a certain code of working and professionalism, which is not very much present in other productions. There is a certain level of regard given to every Balaji actor which is motivating.
• When this offer came to you what was your first thought?
Charvi~ I thought will I be able to do justice to my character or will the show be able to do justice to the emotion and the Iconic trend set by the earlier one.
• Shivani is one of the major characters of KZK. Did you had to take any extra preparations for this role?
Charvi ~ Yes, I was given few days of workshops before the shoot commenced. And I saw few earlier episodes of Kasautii 1 to get into that zone.
• Shivani has an unique yet simple style statement and seems like a girl next door with a simple kurti donned with a jacket, side braided open hair and jhumkas. How much selective you are when it comes to your costume?
Charvi~ I try to put my own sense of styling also when the look is given to me like deciding upon accessories, colors, hairstyle according to what suits me. Adding a little, not changing the decided look. Because the look is kind of similar to what I like.
• The contrast between the Sharmas and the Basus are well depicted in the serial. But off-screen how much smooth is the relation between the two?
Charvi ~ Off screen the relation is totally cordial and  opposite to what is shown. Sometimes we make fun of it and laugh out hard as soon as the director says cut after an intense heated scene between the two of us.
• Prerna and Shivani give us serious sister goals. Tell us about any special memory of you two.
Charvi ~ Prerna and shivani have had many emotional intense scenes. Once after the cut while we were hugging each other in an emotional scene, we did not leave the hug and couldn't come out of that zone for a while. Sometimes I tease Erica the way Shivani would tease Prerna.
• What new is going to happen in Shivani's life in the upcoming episodes? Can you give us a sneak peek?
Charvi ~ Shivani was seen deeply in love and betrayed by her lover. Now her only aim is to help her sister, whom she loves the most to get the love of her life and be happy.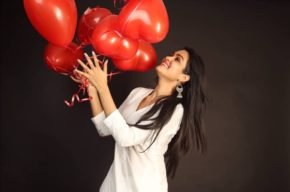 • If I ask you to rate KZK season 1 and 2, what will be your ratings out of 5?
Charvi~ Kzk 1 is sure above than Kzk 2 because of the newness of the concept that time. Now audiences have become more intelligent in choosing their cinema and don't readily accept replicas.
• Name someone from team KZK whom you would like to give these tags. (You can't use same name twice)
▪Selfie partner- Anupam and Tapur
▪Problem solver- Suman
▪Fashion advisor- Prerna
▪Feels like home- Veena
▪Annoying- Shekhar and Mahesh
▪3am friend- Tapur
• Any message for your fans?
Charvi~ I feel overwhelmed for the love and appreciation that keeps coming my way. Feel immensely grateful and proud that I am able to do justice to my character and that audience is able to relate with me as a sister. I'll keep working hard for it.
• Any message for our team LaughaLaughi?
Charvi ~ You guys are doing great work by bringing across to the audience what they cannot get through. And working so hard to get it. Best of luck to the team!
• Thank you so much ma'am for giving us your precious time. All the best for your project.
Charvi~ Thank you.
By Payal Roy