It's okay , at first tell this to yourself and then read what I have to say.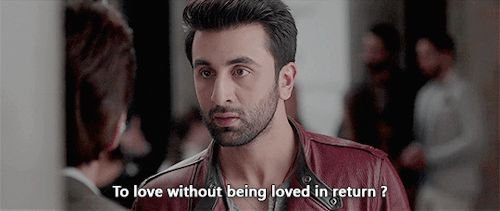 We always talk of love, we talk of getting it, forgetting it, hurting for it, fighting for it but we often forget living for it. We all have seen Shahrukh Khan defining "one-sided love" in a brand new way, in Ae Dil Hai Mushkil.
Just like you I thought that to be a nice idea, loving someone and not wanting then at all.
Well, personal experience tells it isn't actually possible for a "Common man" to be in love and not want them, not ache in their love.
So what should a one sided lover should do?

You should tell yourself that "It's Okay", it is okay to love someone, it is okay to not get it back and it is okay to have so sleepless nights. Just don't give in to that pain, don't beg for that precious feeling called love. It's okay if you couldn't make that person fall for you but you are in love right?
So, be in love, just don't force that feeling called love on yourself, and just don't remind yourself that you are in love. Because if there is love, you don't have to force your brain to know it. One-sided love is the best nest to nurse the bird called imagination. You don't have to focus just do what inspires you. The concept of being busy to forget someone is useless. Don't burden your mind else the moment you are done with your work that person's face will pop-up inside your mind.

Rather be passionate, it's okay if you have that person in your mind and you are doing your work half-hearted. Love is awesome, don't cry over it, use it and do something you love to do. It will seem worthless at first but you don't even get abs within a month. Keep going and keep telling yourself "it's okay".
It's also okay if you just broke up and u can't forget that feeling you felt during your relationship.

Be happy that you felt that and yes fake a smile, you won't even notice when that fake smile of yours has turned into a real one. Meet new people, no you don't actually have to date them, just go out and read some people. Not all of us like to read books but we all love true stories, actually who cares if they aren't, if the person you met is making up his story. Meet them see how many versions of humans are out there, mesmerize yourself. Tell yourself, it is okay to feel vulnerable and share it with people.

Nothing can mend a broken heart, but accepting the fact that it's broken can actually open your eyes and show you how beautiful the cracks look. So find a mirror, look deep into your own eyes and tell yourself "it's okay".