Recreation
5 Painters of India who wrote poems with paint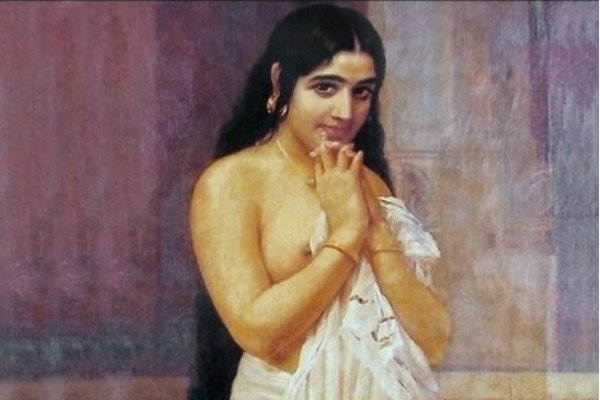 When we talk about art and culture of India we talk about the stories, the poems and the epics India has produced. Before movies, pictures, animations and GIFs took over our generation images were depicted with paints and brushes. Indian painters are poets as well, they write poems that please our eyes but we don't have to read them and just experience the union of imaginations and colors. In the crowd of Leonardo Da Vinci, Van Gough, Picasso we never actually looked into our own country's treasure. There are so many colors in this diverse country of ours and it also has the admirers of the art. These painters had different reasons to paint and had different styles as well but they were all connected to theirs roots and that is what made them so commendable.
Abanindranath Tagore

Just the like the Ray family the Tagore family too is blessed with many talented people. Of course the Tagore family worshiped no God but art and this nephew of Rabindranath Tagore was blessed with the power of imagination and also the art of painting. Born in May 7, 1871, just like his uncle Abanindranath Tagore too was a supporter of Swadeshi movement. He incorporated Indian elements in his artistic creations and promoted Indian art. He created "Indian Society of Oriental Art" and later established Bengal School of Art. He promoted Mughal and Rajput paintings and modernized them in his own way, this gave rise to the modern Indian style of painting.

He believed in spirituality and rejected the materialistic art of the west. He was very much influenced by the traditional Mughal paintings and he used their techniques in his paintings too. Painting to him is something spiritual and thus he has always kept it simple and closer to the God. His paintings were truthful and at the end he also adopted the Chinese calligraphy in his creations to modernize Asian Art. Above are some of his paintings all very simple yet very different from each other. His simplicity made his works so popular among people and the art admirers don't only value his painting skills but love his work.

His painting Ganesh Janani, is a clear example of how beautiful simplicity can look. In this painting Lord Ganesh is seen to be in his infancy and is playing with a tree branch. Any child does such mischief and naturally any mother will be worried for her child. The factor of amazement is that not any common child of such young age would be able to get hold of a tree branch that high and obviously that lady isn't any common mother but goddess Parvati. It is so simple yet has so much to tell and so beautiful. Such is the work of Abanindranath Tagore.
Jamini Roy

No true artist create art to earn money, they simple create because they love to create and they love their creation. Padma Bhushan achiever too loved his creations a lot and money was just secondary to him. He is an artist you will find a painting of in almost every middle class Bengali house provided they are admirers of art. He would not sell his painting to you if you fail to convince him that his painting will be taken good care of. While other painters sell their paintings in a high price, one can get a painting by Jamini Roy at just 350 rupees. He was very much in Lord Krishna and many of his paintings feature Lord Krishna as a kid doing his childhood Leelas.

He too was not a big fan of the western art culture and remained true to his origin. He was a man who kept connection with his roots and in doing that he even gave up on European paints and canvases, instead he opted for a more Indian substitutes. His this determination gave his art a new approach and thus, it won many hearts. Every art is a form of expression of one's imagination and Jamini Roy's paintings depicted his inner self vey vividly. The use of bright and bold colors make them very attractive as well as it tells how stern a person he was. His paintings have changed its mood and shades with times, Bengal School of Art, the rural Bengal and the Indian Mythology all these things have inspired the painter.

Ramayana, with no doubt this is the best work done by the painter. It is a series of paintings made with the paint extracted from organic materials and was done in the Kalighatpata style of painting. This series depicts the Epic Ramayana through the imagination of Roy.
M. F. Husain

Talk of famous Indian painters and not mention M. F. Husain is organizing a tea party and not including tea. Maqbool Fida Husain, is one of the most renowned painters of India. Though a controversial one but he has created many dynamic art pieces. His popularity is so high that he was given the name "Picasso of India" by Forbes magazine. He was one of the most influential artists and had a huge part in the modernization of Indian painting. He had also tried his hand in direction and have also won awards for his direction.

He had started his career as a poster painter. By the early 1930s Indian cinema would produce at least 200 cinemas per year and thus, the demand for skilled poster makers were required. Husain started painting posters for the cinemas as at that time printed posters were not available. He had the skills and earned from it. Later when he had enough to paint for himself he left his job and started creating masterpieces only.

His paintings came under controversies and negative criticism when he started portraying Hindu Goddesses nude. The critics would say that he had kept the Goddesses and the prostitutes in the same stature and that is disrespectful to the religion. But if thought deeply we call every women a Goddesses and the sex workers are omen as well, they too are a part of the Aadi Shakti, doesn't that mean the Goddesses, the common women and even the outcasts are all divine?
Nandlal Bose

He was one of the favorite students of Abanindranath Tagore and unlike the other painters mentioned here Nandlal Bose did not have his family's support. He struggled to become one of the most celebrated painters of India. During his time he earned the trust of the Indian Government and was assigned with many important Government projects. He was also awarded with Padma Vibhushan by the Government of India. He was very passionate about painting and nothing could stop him from being one of the best.

Unlike his teacher he did not hesitate to adopt the western techniques and he would always try something new in his creations. Though most of his paintings were about India and its Mythology, they had the touch of the European painting techniques. He loved experimenting with his way of painting and would not go by rules rather he would mix different art forms in his paintings. He would do this even when he was learning under his master.

Bose amalgamated European techniques and India form of painting in his work, yet his work would mostly feature Indian subjects. His work has been adorned by the villagers as most of his work would portray their day-to-day life and struggle. He had admirers both in the urban cities as well as in the rural parts of India as though his ways were sophisticated he would choose subjects very rustic and closer to the soil.
Raja Ravi Varma

Just like Nandlal Bose, he was also known for his capability of uniting the European style of painting with the Indian cultural style. He took the name of Indian painting to the world and made it famous. He was loved by both the sophisticated lot and the poor villagers. Back in 1930s the poor and out casts were not allowed to enter the temples and thus, Varma's paintings were means of their worship. He did not keep his artistic knowledge to himself and provided the poor with affordable lithographs. He spread the importance of art to the people and educated them about art.
He mainly painted the characters from Puranas, and that from the famous Epics Ramayana and Mahabharata. He would also paint the South Indian Women and would portray their beauty in his paintings. His portrait of Hindu Gods and Goddesses are what the common, poor lot of India relied on to worship their God. He was an artist with modern thoughts but had old believes.

He has been blamed for overshadowing Indian art forms and promoting the European form of art. He has also been criticized for depicting Indian Goddesses with pale skin and only the women of lower status have flaunted dark skin in his paintings. His paintings had a feeling of racism as if dark skin is correlated with being poor.
These painters have made this list for their uniqueness and their love for art. Though there are other amazing painters in India these 5 men have taken painting to another level.